Yesterday Hero Hubs took the Bear for a special adventure, just father and son. He promised the Bear ice cream and they headed into the little village beachfront area of Gordon's Bay to get it. Although he can't pronounce it particularly well, the Bear loves him some I-skeem, so he was stoked.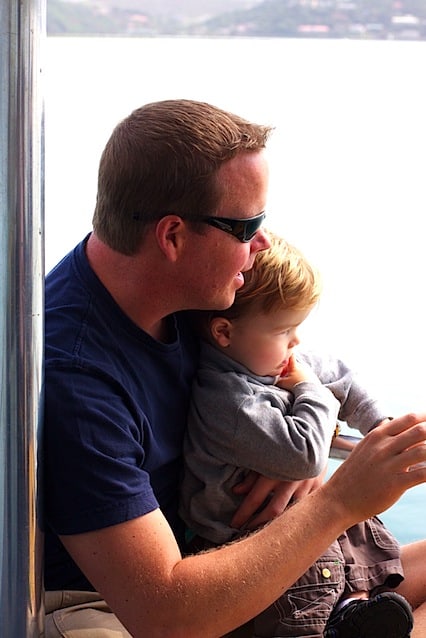 They headed out just after naptime, Bear clicked into his car seat, Dad driving, Mr. Potato Head grumbling along. (He misses going fast.) After finding a space just in front of the little ice cream shop, they hopped out and headed inside to start choosing flavours.
The Bear was keen for choc-choc…no surprise there…and they sauntered up to the counter to place their order. The young guy behind the counter in a bright coloured t-shirt said the total was ten Rand. So HH looked down at the Bear and said, "The ice cream is ten Rand, Bear Bear. Do you have ten Rand? You're going to need ten Rand if you want ice cream. You were supposed to bring money, of course. If you don't have it, I guess we'll just be leaving now. I suppose we can go down to the beach and you can pick up a rock or take a shell home with you instead."
The Bear was bewildered and completely confused, and his bright green eyes welled up with tears as he shuffled his feet out of the ice cream shop. Empty-handed and heavy-hearted, he…
OK, can I stop right there? How many of you actually believe this story? Hopefully if you know HH at all, you know that this just wouldn't happen. He's a good Dad, and if he promises the Bear ice cream, you're darn tootin' he's going to do everything in his power to deliver on his promise. His promise will directly result in his provision, because
Good Fathers keep their promises.
Just recently, I've been praying for a friend who is in a tough situation. She has some life-altering decisions to make and my heart is heavy for her as she walks through this difficult time. I found myself replying to one of her emails earlier with these words:
I trust that God will gently lead you and give you peace and direction. I also trust Him to provide for you as you walk the way He leads — He will not guide you somewhere and then not provide for you there.
I stopped myself as I finished typing those words and pondered them for a bit. How often do I doubt that this is true?
I am often afraid that I'm going to make a mistake, and that the metaphorical bottom is going to fall out. I'm afraid that I'm going to take a left instead of a right at Albuquerque, and the rug of blessing and provision is going to be pulled right out from under me.
The Lord reminds me again and again that He loves me even more than I love my little ones. But somehow, that love starts slipping through my fingers, Disbelief starts creeping in, Fear starts whispering, and my mind tells me stories about what it looks like to be up the creek without a paddle.
But that is not the God I love. That is not the God I worship. That is not the way of our loving God.
My God is the loving Shepherd who lays down His life for His sheep.
He's the One who says I came that they might have life and have it to the full.
And says don't worry about tomorrow. Consider the lilies. Look at the sparrows. Don't you mean more to me than them?
He pointed out Himself that if asked for bread, even an imperfect, human Dad won't give his kid a stone. And then reminded us that He's perfect.

He may not be all about my comfort, but He is able to work things together for my good.
While reminding myself and my friend of this truth, I thought it might be something you might need to hear today, too. I am not completely sure what tomorrow looks like for any of us. But I'm choosing to remember to put my confidence in the God who knows. He's already there, and His plans are plans to prosper, and not to harm.
So, good news! God isn't waiting for you to take a wrong turn so He can pull the rug out from under you, either. And I think that truth tastes even better than choc-choc ice cream.
xCC