Did you know that a typical screenplay has about 40 scenes or scene sequences in total?
Unlike lining up batteries (positive to negative) the scenes should line up so that one starts on a high (positive emotional value) and ends on a low, and the next begins low and ends high. 
This year I began sticking index cards to my wall, arranging them into scenes and sequences that would eventually become the backbone of a screenplay. This was perhaps the biggest learning experience of 2020 for me.
Even if a lot of tears hit the keyboard while I was doing it.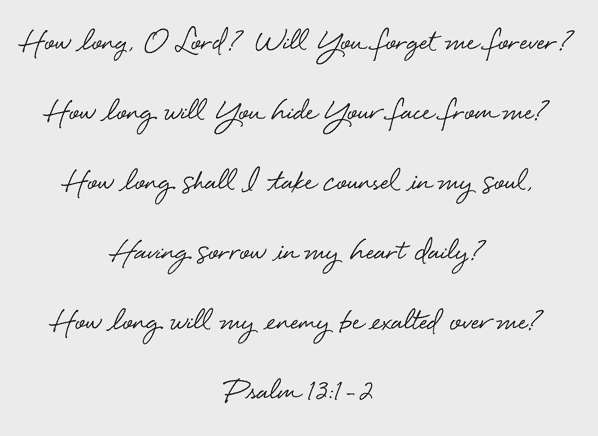 Longing to retell the story of our experience with Blake, his aneurism, coma, and 48 day hospital stay, I pored over every Facebook update, reread countless prayers in my journal, and reconstructed the details of all the life and emotion packed into the journey.
Tears were expected.
Then came the part I wasn't expecting. Sometimes in order to tell a story in a way that fits inside a structure in terms of time or character count, choices have to be made. Not every moment and person can be included.
And you may have to make a choice between telling it the way it happened, or for the sake of time or interest or character development, you might have to make a change. 
When it came time for me to make a creative choice, I found myself thinking about what I wanted at the time, what God actually wrote, and it always seemed – His way of writing the story was so much more beautiful than mine. 
At the time, it was painful. So. So. Painful.
But now? I see how it was so much more meaningful than what I would have written if He had handed me the pen in the days when it was all actually happening in our lives.
For many of us, 2020 has been a "How long, Oh, Lord?" kind of year. 
You know what?
The Book of Psalms is full of Psalms of Lament and Psalms of Praise – Lament outnumbers Praise in the early part of the book, but then the Praise ones outnumber the Psalms of Lament as the book progresses toward its conclusion. 
As we reflect on a year that has been very different, and for many of us, very hard, perhaps we all need reminding that there is space for whatever we are feeling. 
There is a time for lament, and a time for praise. And sometimes, it's the same time.
Hallelujah for Advent! We can pour out praises to Jesus for coming down to Earth. Hallelujah, for Lament! We can also pour out our hearts in honesty, asking God to continue His great rescue plan, to do a new thing and to remake this world the way He intended in the beginning.
Who would believe God would choose to write this story? The Great Rescue plan hinged on sending a tiny baby, like a loaf of bread, to the House of Bread, Bethlehem.
He became the Bread of Life that would be broken for the world.
This life in between can be so challenging, friends. It's true. I hope you can take courage in the knowledge that God is actively, intimately acquainted with the details of your story. 
Even when it's painful at the time, He so often uses postponement to make the best become possible.
Reflecting on the journey this year, I'm more convinced than ever. We can be honest, we can be patient, and we can trust: the Lord, the Lord our God? 
He writes the best stories.

P.S. If you're in gift-giving mode, I'd love to welcome you to visit my 2020 Holiday Gift Guide. It has ideas for different ages and budgets and I hope it'll be a helpful slice of inspiration for you! Peace and GRACE to you today, friend!!! Click the link below to see the Holiday Guide and Grab the Hassle Free Holiday Guide I created to help you plan and prepare for more peace during the holidays!
Some posts on my site contain affiliate links. When you click on those links to make purchases, I receive compensation at no extra cost to you. I love it when you do that! Thank you for your love and support!