I haven't written lately. I suppose sometimes it's good to start by stating the obvious.
I haven't written lately because the thoughts seem to be swirling around in my mind, most times too quickly for me to catch them and pin them down.
I haven't written lately because there are diapers to change and booboos to kiss and juice cups to fill, and there's a part of me that wants to make sure I'm doing this living thing right, even after coming to grips with the dying.
I haven't written lately because for a while I tried piling so many things on my plate we almost ran out of toilet paper.
And when that momentary clarity that death brings passes, sometimes things seem to look hazy for a while. You're forging a new path and the way forward isn't clear — you want to make sure some things change, you want to make sure some things stay the same — and you want to try to handle the things that are going to change whether you want them to or not, well.
I now have a gorgeous six-month-old baby girl. She was only four months old at the big goodbye. She is a daily reminder that life does go on, will go on.
And I have a four year old who is about to finish his second year of pre-school, today. And it feels like yesterday and a million years ago, the day he started the three-year-old class, fresh out the gates from South Africa, when we flew in over the weekend and he jumped in, a week late, on the Monday.
His little brother is now wearing those shorts.
The thought comes in spells, I'm sad to say fewer, but still, where I remember faces, like The Girl in the Pink Coat.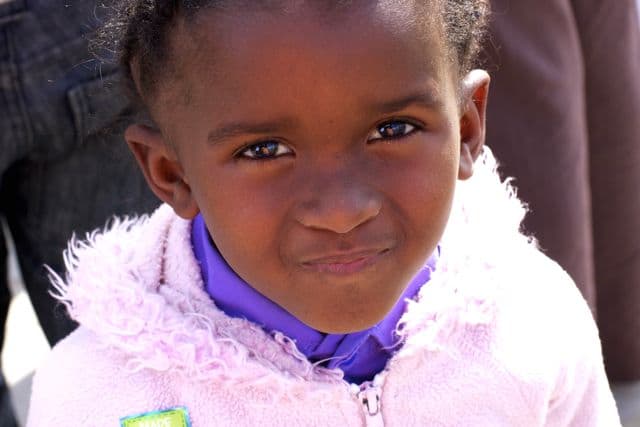 And I think about the privilege I have of raising kids and knowing we have food to eat every day and a safe place to live and a comfortable bed for every person. And reconciling these gifts with what I've seen — those faces, those feet — I find it hard to keep going in comfortable North Carolina sometimes. What do you say to the kid you sponsor through Compassion?
Your life is hard. My troubles pale in comparison. You are full of joy. I want to pour my life out for Jesus and the fear of comfortable almost keeps me up at night.
I cling to a few simple truths, in the midst of the haze, and perhaps they'll be useful for you. First, a friend of mine reminded me the other day that you don't always know what you're doing, what it means to the people around you. Keep doing good because it's good. Especially when your right hand doesn't know what your left hand is doing — your Father does. I find that encouragement enough to keep loving, to keep giving, and to wholeheartedly keep seeking the kingdom first.
God is still on the throne. My parents have always felt like the two pillars that the platform of my life balanced on. Losing one has made me wobble. But we can always only ever find a firm foundation in Jesus. Keep seeking the kingdom first.
When you aren't sure what to do, when bare feet in SA are on your heart, but dirty floors in NC are in your face, do your best to do the thing in front of you with love. And keep seeking the kingdom first, to help you know what that thing is.
If I can love the one in front of me, as Mother Theresa put it, maybe he or she will be the one to get on a plane and go back to some of the places where I've left pieces of my heart, and to love the people there. Or he or she will love someone who'll love someone who'll love someone who will. And Lord willing, we will love there again, too, and love here, in the meantime.
Catch my drift?
With Love,
xCC