Hooray Hooray Hooray it's finally here! Today is the first ever Giveaway Day on carolinecollie.com! I'm so glad you could join us! It's just in time for Mother's Day and Cinco de Mayo! ¡Olé!
I am very pleased to introduce you to the talent behind Little Miss Priss Designs, Karen Congleton. Unless you guys have already met, in which case you know already, she's talented.
Karen designs and paints these darlin' precious hairbow holders. Look!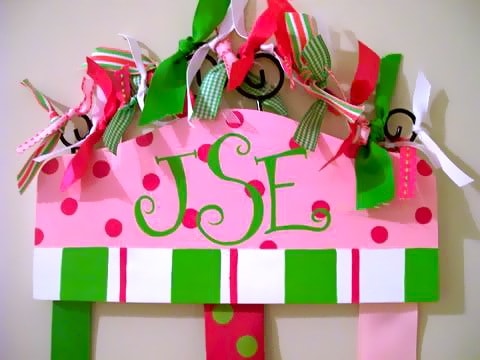 Aren't they adorable? She personalizes them based on what her customers request. Look at that gorgeous free hand script!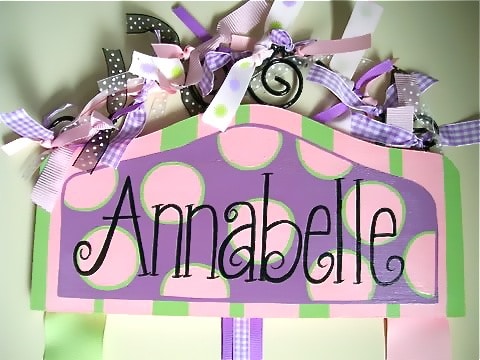 Karen's cutie-pie hairbow holders are 10 inches long and about 5 inches tall, and have three matching three-yard ribbons to clip hair bows to underneath, with decorative ribbon coordinating on top. ¡Accento!
This one is my fave. Polka-dots + Zebra = Whatever it is I'm probably gonna love it.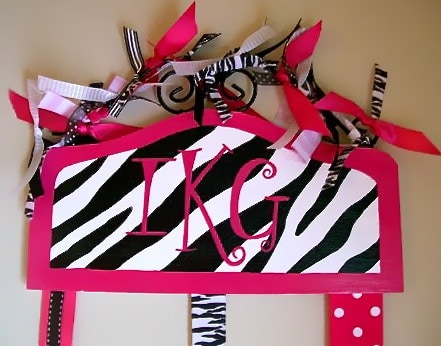 Dern I want a little girl!
So, good news! If you're a Mom to three boys like Karen, (meaning you don't need a hair bow holder) she does other cute stuff, too! Like these adorable picture frames: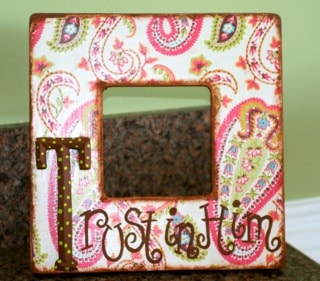 It's an 8 x 8 that holds a 3.5 x 3.5 picture in case you were wondering.
Isn't this one adorable?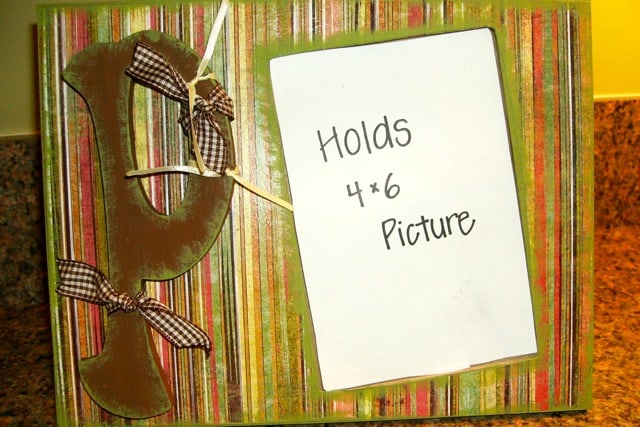 That's a 9 x 7 which, as you can see, holds a 4 x 6. Sassy!
OR… this one… I love buttons!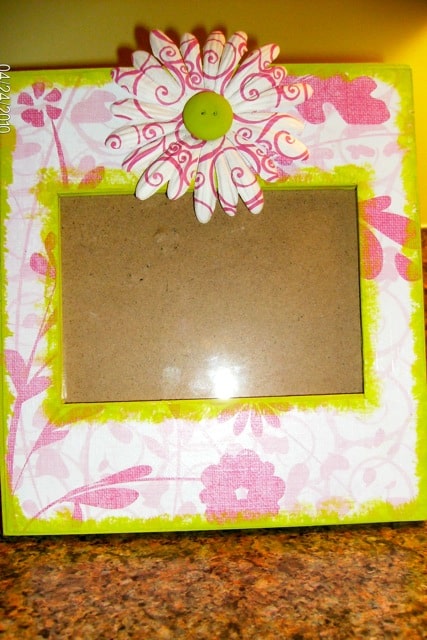 That one is 6.5 x 7 and holds a 3.5 x 5 sized picture. Cute as a button!
Now here's the really good news. Today, you can win a free personalized hair bow holder or picture frame from Little Miss Priss Designs. (Your choice!)
All you have to do is leave a comment at the bottom of this post, and tell us whether you'd choose a hair bow holder or a picture frame, and how you'd like yours personalized! Tomorrow morning I will quite literally put your name in a hat, and the Bear will have the delightful adventure of drawing a name out of the hat. And good news, since we're six hours ahead, the news will probably hit the web long before you're awake! Please just comment ONCE, and we'll announce the winner tomorrow!
And one more bit of good news — if you're not a winner, I'll have the details on how you can still get something special from Little Miss Priss Designs right here. So come back tomorrow!
These are the nitty-gritty details:
This Give-Away Contest will run from 12 am to 12 midnight Eastern Standard Time on Friday, April 30, 2010. Once the winner is chosen, we'll announce it here on www.carolinecollie.com, I'll touch base with the winner with the good news, and Karen will contact you to talk about what you'd like! I am very sorry to say this, but this contest is only open to residents of the US of A. AND, if the Bear or I discover that you've been cheeky and commented more than once, you're NOT gonna win. Cos that's just cheeky.
So comment away (well, once)! Good Luck!
xCC