My friend Adam wrote a great book called Stop Taking Sides. 
At one point, he writes about how he was an opinionated and argumentative teen, and comments that when he wanted to have conversations about faith with people, "They didn't feel they'd been near Jesus—just near a jerk."
He followed that up with a beautiful point that's worth quoting here for your encouragement: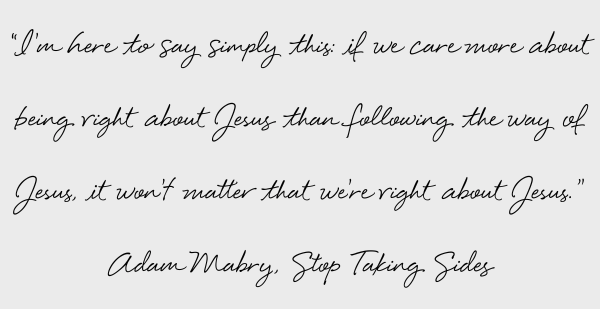 This week, with all the ideas, opinions, debates, and yeah, even the mud-slinging and the trash-talking filling the airwaves, I want to fill your inbox with a few simple words of encouragement by James Bryan Smith. (You can hear the story behind this quote on my friend and mentor Emily P. Freeman's podcast, here.)
"You are one in whom Christ delights and dwells. You live in the strong and unshakeable kingdom of God. The kingdom is not in trouble and neither are you."
We cannot confuse our hope and our future, as citizens of the kingdom of heaven, with the belief that politics are the primary means of bringing about the kingdom of God. 
When we do, we rejoice when our political party wins, but fall into despair when they lose – because we've misplaced our hope, moved it away from the faithful character of a sovereign, loving God, and we've placed it in the hands of the government running our country.
Am I saying skip the voting lines and shun civic responsibility? Absolutely not. But as you search your conscience and check your boxes, hold onto these words from Daniel 2:21:
"He controls the course of world events; he removes kings and sets up other kings. He gives wisdom to the wise and knowledge to the scholars."
Dear ones, don't let fear overcome you. Don't let doubt overwhelm you. Pray fervently, love deeply and wholeheartedly, and remember that You serve a God that can use even the struggle and suffering of a child's 48 day hospital stay to bring Him glory and honor and praise – surely He can use anyone, anything, any circumstance to work all things together for His glory, and for the good of those who love Him.
Keep loving Him. Keep trusting Him. And let Him take care of the rest.

P.S. I've been working on a special gift for you! Hint: I'm hoping to make the next two months a little more Merry and Bright!! Subscribe for my weekly email today and you'll be the first to know when it's ready!
P.P.S. If you want the skinny on the journey of this writer-longing-to-publish-a-book and see a screenplay become a movie, that's in the emails, too!
One more thing! You can find Adam Mabry's fantastic book, Stop Taking Sides on Amazon by clicking here. It encouraged my faith in so many ways and I highly recommend it!
Some posts on my site contain affiliate links. When you click on those links to make purchases, I receive compensation at no extra cost to you. I love it when you do that! Thank you for your love and support!