You wouldn't expect the first day of the week to be the one with the best lyrics. But just this Monday I started listening with new ears and I heard the most beautiful song these days on earth have given me yet…
The baby, singing from his crib before the sun rises. With some milk and a little love, he finishes off a decent night's rest with a morning snooze in our bed. Surrounded by pillows, his little stuffy nose makes me wonder if a sleeping piglet might sound the same curled up in a haystack somewhere.
The microwave dings and the spoon joins the chorus, stirring peanut butter into oatmeal, and pop, the cap of the honey is open, and with a squirt a breakfast fit for a Bear clunks on the table.
Swoosh, juice is in the glasses and the kettle purrs in preparation for HH lattes for two.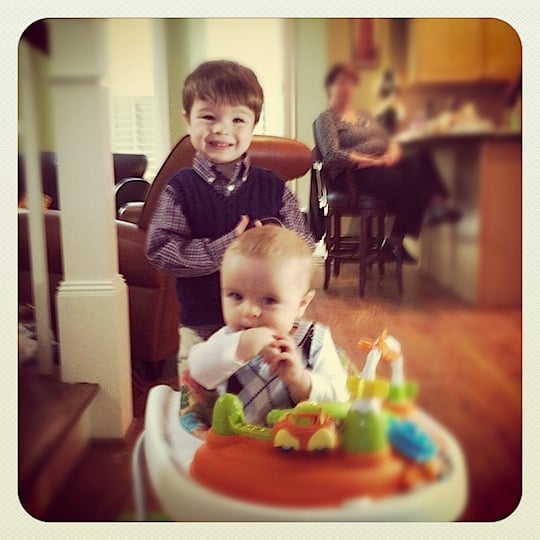 The little one drums his hands with a bang, bang, bang the rhythm of a baby waiting for his cereal to be served. He sings his tune in high pitched notes, his brother belts the lower ones for two-part harmony.
A baby toot ricochets quite well on the seat of a high chair, the wind section announcing its presence at the breakfast table, squeals of laughter bounce off the walls, trumpeting the soulful notes of deep, deep amusement.
The shower squeaks and the water's rhythm keeps time with these melodies, as HH gets ready for work. With a step and a hum and the creak of an old floor I collect shoes and find clothing for school.
We're almost ready to go when I tell the Bear he's my baby and I love him — and like a moody bridge, a moment of discord in the melody — he protests with a loud solo, for a baby, he is not.
I joyfully sing the resolution to his discordance, my best attempts at the chorus of an old Mariah Carey song:
You will always be a part of me…
and I am part of you indefinitely…
boy, don't you know you can't escape me,
ooh darling, cos you'll always be my baby.
A cacophony erupts in the car — squeals and laughter and shouts and harumphs. The baby and his brother echo one another in a hollering contest only bettered by the likes of Spivey's Corner.
I glance at the Bear in the rear view and smile as he joins me in the chorus of a song straight from our home in South Africa:
Here we go, here we go, all out for You!
We will go, we will go, tell about You.
All we are, all we are gives You glory.
Sing it out, sing it out, You are worthy!
We're here and it's now — sometimes it smarts — we are learning and living a new normal. But we still have in our hearts what was, and still is — and all of it together is a symphony so beautiful, I'd love to hear it again and again, the melodies, the music of our Monday.
xCC