Happy Tuesday, lads and lassies! How's your week going? No one ever answers these questions but still, I keep asking. As I mentioned not too long ago, we decided to hit the road on one last wee adventure as a family of three, before Agnes and baby brother arrived. Desiring to be a reasonably comfortable distance away in case baby brother was to consider making an extra-early appearance, the Hubs chose a Berry Farm in Swellendam as a nice spot for a relaxed couple of days away.
Swellendam is a wee town that sits at the foot of the Langeberg Mountain range. We often pass by the town on our way up the coast and think "seems like such a pretty spot…we should go there sometime." I'm glad we finally did!
We were warmly welcomed into town.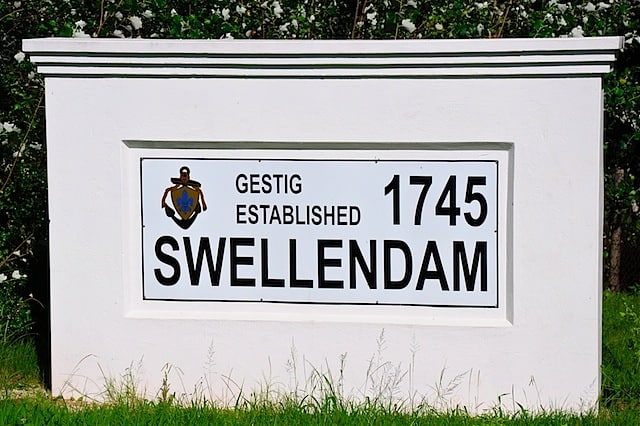 And wowed by this gorgeous historic church. I think on Church Street, no less.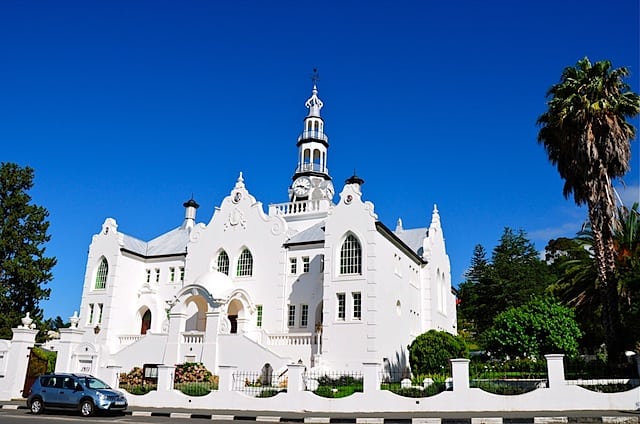 Our wee self-catering cottage was on the property of a working Berry Farm, where the Bear was delighted to enjoy a swimmee pool and being pushed in the swing. His favourite moments may have involved visiting the horse near our cottage. He enthusiastically greeted the peacefully sleeping creature with a loud "WAKE!!!!" one morning and the poor horse hopped up as if it had been caught sleeping on the job!
The view sitting on our front porch was absolutely breathtaking.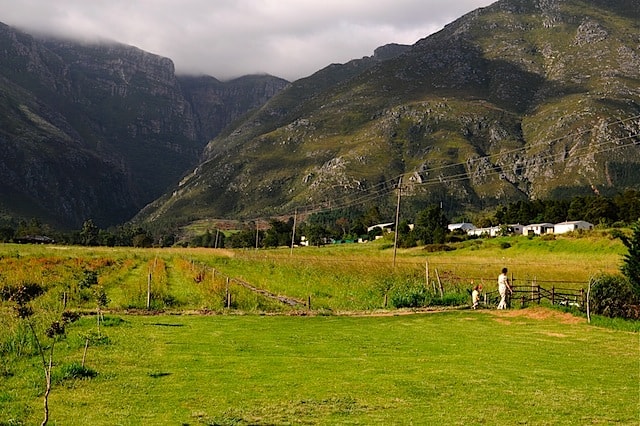 No, seriously.
I mean, really.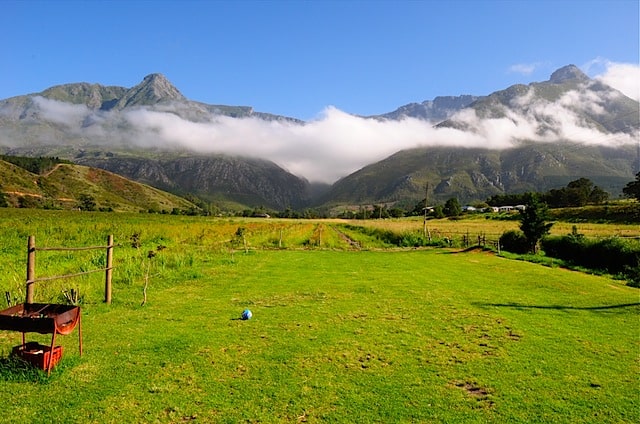 We discovered that instead of saying "Strawberry," the Bear says "Stwaw-beh-ree-ree-ree" when he spots such a berry. And though we explained that we were staying in the Raspberry cottage, he insisted "Stwawbeh-ree-ree-ree" was the appropriate name, while pointing at the sign.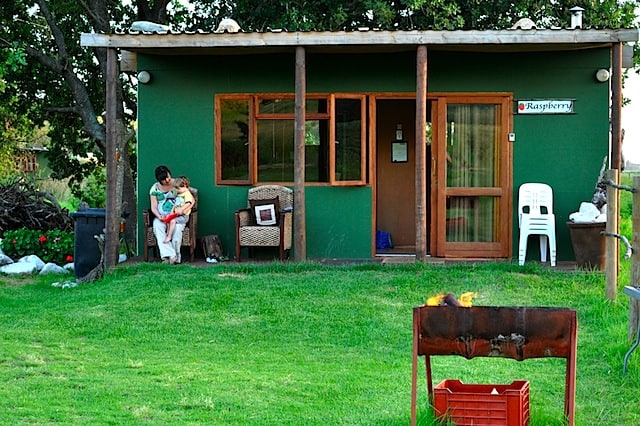 After putting the Bear to bed in the evening, we sat in those chairs and stared at this view, as the mountains changed their moods with the setting of the sun.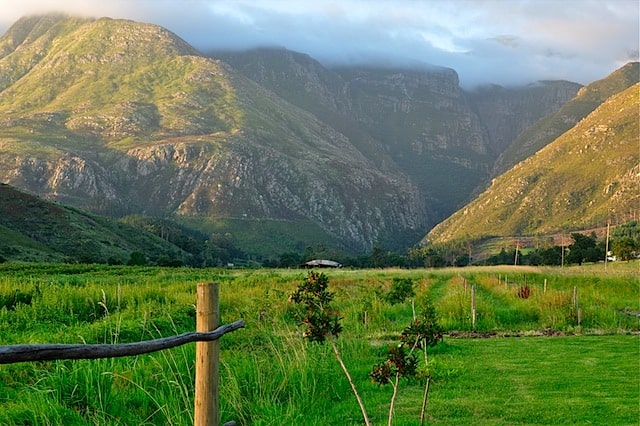 One of the evening views the Hubs captured :: This is a colour photo.

It was awesome to remember how many stars you can see on a clear night in the southern hemisphere, especially when you get away from bright lights and big cities. We looked out at the stars for a while each evening and just soaked in the beauty. I adore looking up at the stars and thinking about how people have done the very same thing, and looked up at those very same stars for thousands and thousands of years. They seem to me an example of creation crying out to any who'll listen: "There is a Creator! He is Majestic, and Glorious and Good!"
We also rather enjoyed the rustic feel of the accommodation.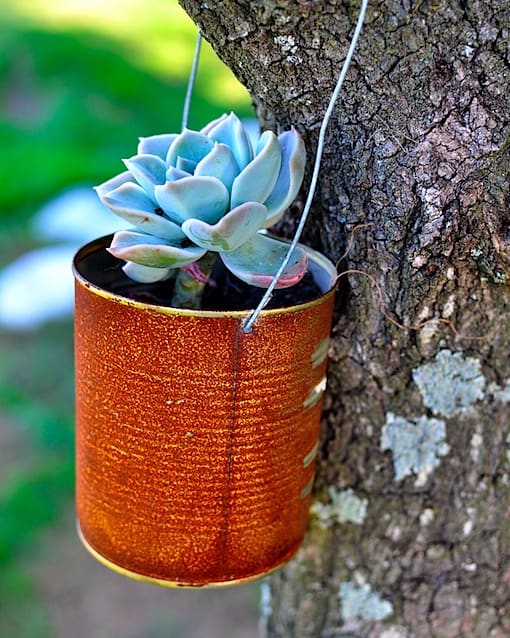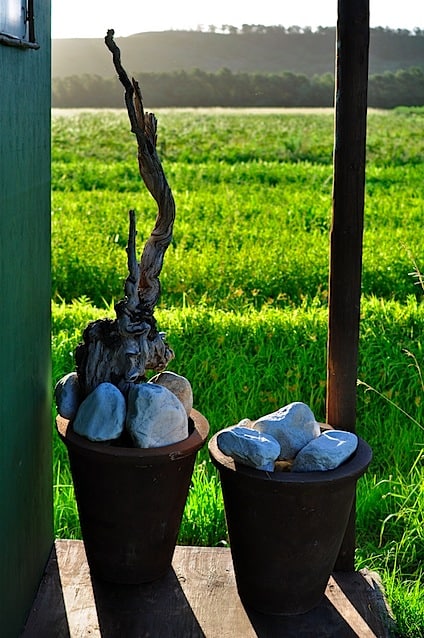 And on our only full day in Swellendam, we enjoyed a morning latte and a muffin at what could possibly be the cutest coffee shop outside the streets of Paris. Since this Travelling Tuesday post is getting a bit long, I think I'll give you a couple of teaser shots and tell you to come back next week for the rest!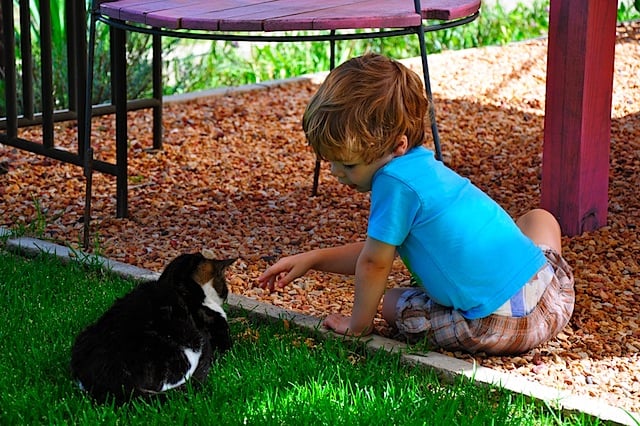 It was cute even without the Bear, I promise! See?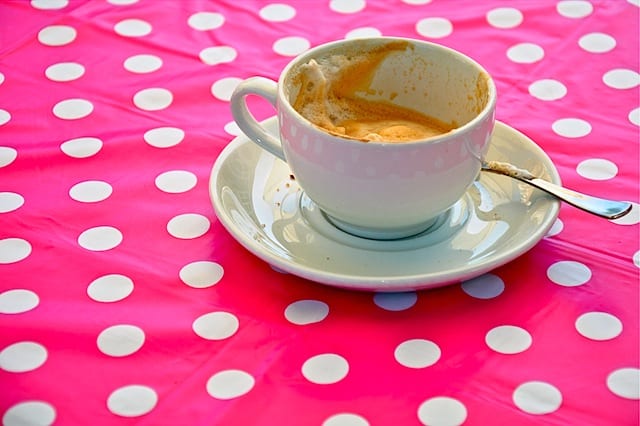 More Swellendam next week… I'm planning to create the post ahead of time in case the baby comes!
Happy Tuesday, friends. Enjoy your journey today!
xCC