A few days ago I mentioned on a Facebook status how thankful I was for Thai Shepherd's Pie. It's an easy meal and I'm always happy with the results. A few folks asked for the recipe, so I thought I'd put it here for you all to see, try, enjoy, and mayhaps ask questions or share results.
Let me get you started with a couple of quick tips:
I usually plan Shepherd's Pie when there is also another mashed potato side dish on the menu within a few days of this meal. I make extra mashed potatoes to cover both events and cut the work load.
Although some people seem to have trouble with freezing mashed potatoes, I've found that if I'm just using them to top a Shepherd's Pie, I can let them defrost during the day and use them in the evening. (Or even speed up the process defrosting in the microwave.)
I highly recommend doubling the amount you think your peeps will eat and freezing half. It is awesome to pull the meat and the potatoes out of the freezer in the morning and have an instant dinner, with just a little assembly and oven usage required. See?
The ingredients:
2 Tbsp sunflower oil
500 g minced beef or 1 lb of ground beef, depending on which continent you find yourself (I often use double that and leave just about everything else the same, and the Beef & Ostrich mince we get here in SA works fine, too.)
1 – 2 Tbsp Thai Red Curry Paste (Green is fine too — and I use 3 – 4, esp. if I'm doubling, we like da spicy! Warning: all pastes are not created equal.)
1 bunch of spring onions, finely sliced (I've used 1/2 a normal onion & it was fine.)
1 x 400 ml can coconut milk (That's like a normal-sized can in the States. Lowfat is just as good and like 1/4 of the calories!!)
1 tsp castor sugar (I think this is superfine sugar in the US, but there's a big discussion about it at Chowhound. I'm pretty sure superfine sugar will work just as well.)
1 Tbsp fish sauce (this is weird and you may not use it for anything else, but it's worth it. It'll keep in the fridge for ages.)
a large handful of fresh basil leaves (Not a train smash if you don't want to spring for this.)
salt and freshly ground black pepper to taste
And the veggies — I've put lots of different veggies in this and never been disappointed. I usually add more than what's called for to make things go further. I'd say pick two (the first two are recommended in the original recipe):
125 g (a healthy handful) fresh green beans, topped, tailed and chopped into small pieces
1 red pepper, seeded and chopped
1 or 2 carrots, peeled and chopped into small pieces
peas (but just add them at the last minute)
*frozen kernel corn — which I use in additional to a couple of other veggies, but it only gets added later — instructions coming.
Mashed potatoes — whatever you would normally do in this department will work fine. Mashed sweet potatoes would probably be a tasty alternative.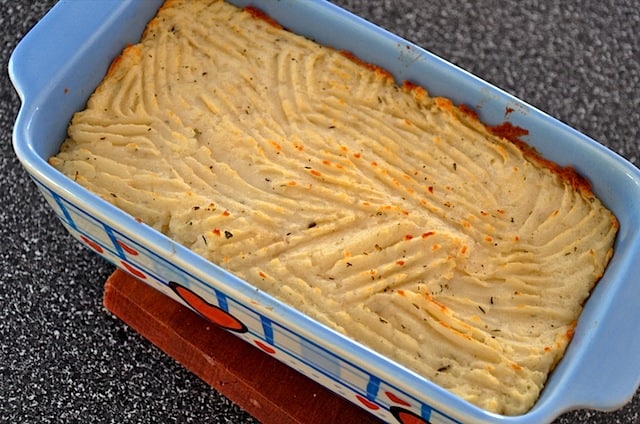 The Magic:
Heat the oil. Brown the beef over a high heat.
Add the pepper, green beans and onions (or whatever you're using for veggies except peas and corn) and stir fry for 2 – 3 minutes.
Stir in the curry paste and coconut milk and bring to the boil.
Simmer, uncovered, for 10 minutes, until reduced and thickened.
Add the sugar, fish sauce, and basil leaves. Give it a taste and see if you want a lil salt or peppa. If you want peas, add them now.
(Note: if you want to stop here and eat this with egg noodles or rice instead of turning it into Shepherd's Pie, feel free! I have tried each method and prefer the Pie.)
Next, pour your newfound mixture of beefy curry delight into a baking dish. Any size'll do as long as you have enough mashed potatoes to cover it.
Cover the beefy goodness layer with a layer of frozen corn. Mmm-hmm, still frozen, cos it's easy like that.
Slap on a healthy slathering of mashed potatoes. (If you don't have enough it'll be soupy but still taste okay.) Spread them around nicely, but be careful if there's a lot of liquid! Use a fork to create lots of nice peaks and troughs because they'll brown nicely when you bake it.
Bake at 200°C/400°F, 25-30 minutes, or until the insides are bubbling and those lovely peaks you just made are browning nicely. Feel free to turn the oven up to grill/broil for the browning effect if you get impatient.
Yum yum!
Hope you enjoy! Born-up-a-tree!
xCC