We take the same route to church and to the the doctor's office for my prenatal checkups. Depending on whether it's a weekend or a weekday, the sights might be slightly different, but it always seems like there's something to tug at my heartstrings.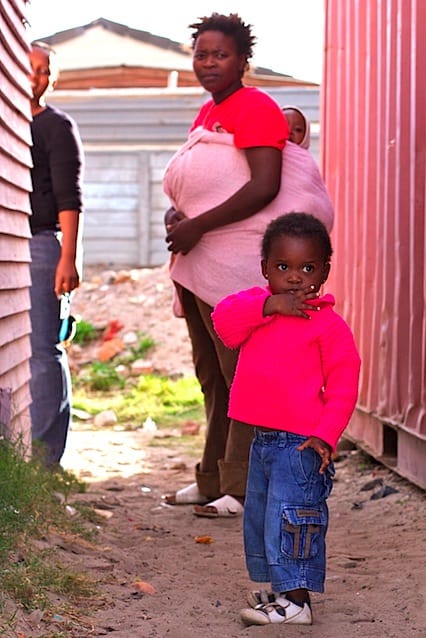 Turning out of our neighbourhood, we're on a fairly busy stretch of highway. Mr. Potato Head grumbles in the direction of the nearby Steenbras mountains, and then we turn and start heading in the direction of the Hottentots Holland mountains, further in the distance. We cross over the busy N2, up a hill and in a moment we're whisked into Sir Lowry's Pass village.
Until you come face to face with the reality of poverty, it is still just images on a TV screen or website, or in a brochure you received in the mail. But the reality is so much bigger — more complex, more colourful, more hopeful, more distressing.
We grumbled along for a prenatal appointment a couple weeks ago, and my heart rode the up and down roller coaster it usually rides on the journey. We pass the big dumpster where three or four goats are usually grazing on a pile of trash, and we come to the one little roundabout with a small food store on one corner, shacks on another, a freestanding house opposite the store. The rundown wall behind the goats closes out the circle. It's a school day and the streets are full of life.
Children in uniforms are dispersing in every direction, and one little girl is giggling and scurrying away from an older sibling, or perhaps her mother. They are both laughing and seem so joyful I wish we could stop to ask what's so funny.
A tall gentleman with a checkered shirt, a baseball cap and nice shoes struts across the street on the other side of the roundabout. A smaller guy with long dreadlocks and a red t-shirt hops up the curb on a little trick bike.
Outside a shack built entirely of what looks like found or recycled pieces of wood, a dog and a cat stand beside one another, staring in, as if something important is happening and they're waiting to get inside. Children, some with shoes and some barefoot, are walking or sitting in the shade of the occasional, small trees that line the road. They're eating their lunch and enjoying treats they've just gotten at the food store.

Life seems to be joyful for a moment.
A little further along we pass a little boy, gray-sweatered and green-trousered, still in his school uniform. Like children often do, he has taken off his school shoes to preserve them, and is walking barefoot and alone, a backpack on his back and his big black shoes in his arms. He steps normally with his right leg, but with each step he has to drag his left leg around in a circle, as if the leg cannot be bent at the knee. Watching him struggle under the weight of disability and the load he is carrying, my face is flush and I begin forcing back tears.
My mind begins to marvel that my heart hasn't grown cold. I thought after a year or so these scenes would become familiar…that I'd struggle to find emotion…that I'd eventually begin to feel sorry that I didn't feel sorry.
We pass a woman who is pregnant, but not as far along as I am. The difference in opportunity for the life growing inside her and the one in me…I almost want to shuck the thought away instead of letting it sink in. Who's to know, really?
Sometimes Africa feels like a deep ravine set in a distant jungle. People come from miles around to find it, because everyone's goal is to fill it. We throw in resources. Money. Food. Clothing. Bicycles. Shoes. Then we lean over to look in, and still can't see the bottom. It's a struggle to see progress. Hand-ups and Hand-outs start to look similar.
But I've seen change. I've seen generosity make a difference. And I've seen the numbers. And I've shared some of them with you here. We could be the generation that makes poverty history. If we grow weary in well-doing, we probably won't. But if we continue the fight, our chances of success improve considerably.
The car grumbles on to the doctor's office, my head and my heart like soft serve ice cream, thick with heavy thoughts. Staring down into the ravine, the hope is for something unseen. And who knows how it's all going to come together.
I hope my part in this journey will end with a "Well done." Sometimes I'm not sure what else to hope for.
xCC