Happy Tuesday, muchachos y muchachas! I thought you might enjoy a refreshing travel, slightly back in time, to a Shoes of Hope distribution which took place in August, not too far from Cape Town, and near a place called Paarl. Isn't it good to be whisked off to a space where a pair of shoes can change a life? Where simple acts of kindness can have a profound affect? I suppose the good news for you and for me today is that it doesn't take travelling halfway around the globe to see small acts of kindness bring about big results. But it's still beautiful to see the smiling faces of kids who, by many standards, have very little, but are nevertheless brimming with joy.
This SoH Distribution took place in partnership with a wonderful church called Paarl Family Church, in a primary school that serves a farming region not far from Paarl. It was awesome to work with this church, and to see people who are passionate about having an impact in their community for Jesus. Enjoy the moments!
Basketball Coach Ron Hunter from Indiana University-Purdue University Indianapolis (IUIPUI) with some excited kids!!
One of our dear friends, Gabriel lending a hand and washing some feet…
Big style prayer moment…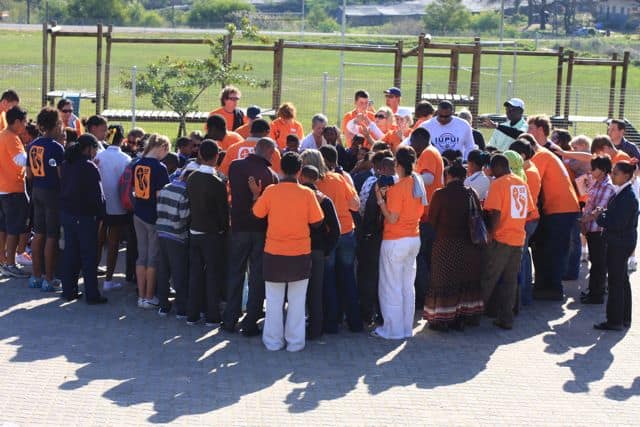 And of course, saving a few favourites for last:: I'm not sure why this little man is tugging at his shirt, but isn't he precious?
Is this not one of the most beautiful smiles you've ever seen?
What a happy, happy day!
Well friends, I hope your week is going great! If you have the opportunity to show some kindness in the days ahead…TAKE IT!
xCC