We arrived in Bloemfontein yesterday evening, after about 11 hours in the car, with a poor grumbly bear hopped up on candy (a new strategy for making the long road trips a little easier) wading our way through what the South Africans call "stop-go's." Translation: Road Works, Road Works, and more Road Works. Sit-still-and-watch-the-people-on-this-end-who-are-not-communicating-with-the-people-on-the-other-end-properly-so-the-last-car-came-through-five-minutes-ago-and-they-still-aren't-moving-the-cones-Road-Works. Eish.
We're here delivering shoes to a ministry partner working in an impoverished area outside of the city, and we've already had a meeting with another inspiring lady and one of her colleagues just this morning. They are doing some wonderful work in another poor township outside the city and it feels like a privilege to talk about partnering with them in the year to come. They are feeding and clothing poor and vulnerable children, and I'm running out of adjectives to describe their hearts and their work — inspiring just doesn't seem to cut it!
We're still taking a photo here and there with our little digital camera, for which we are very thankful, but it's just not the same as the big bright shots that came from our Canon! Hero Hubs' Mom is an excellent gardener and I would love to show you some shots of her garden in full bloom right now. (Remember it's spring in the southern hemi!) I may still have a photo for you here and there but I'm afraid they won't be nearly as inpsiring as usual! Here's one from the files…this was in Mom-in-love's garden almost a year ago! Wasn't the Bear a little cherub?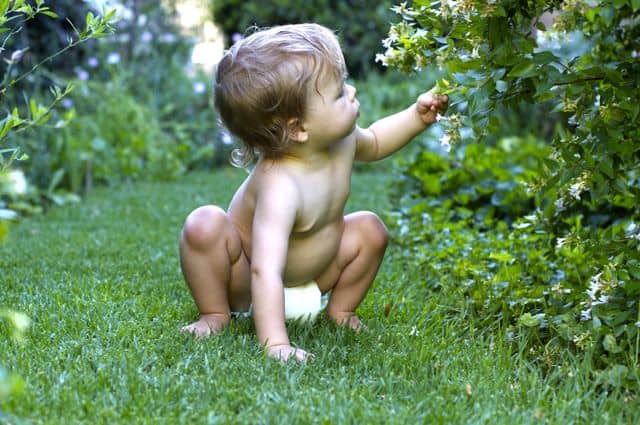 Anywho, this is just an update that 1) all is well and we're safely in Bloem, 2) the Bear is enjoying the change of scenery, 3) I'm now having to lean forward a little to see my toes and 4) I'm looking forward to another visit to Kloppers. That's the magical department store I think I've told you about where you can find fine china and hunting gear, crafty stuff and bicycles. You can buy a washing machine, a camping tent, and two-way radios, or have a piece of glass cut just the right size to fit a picture frame you bought on the side of the road for a song. 🙂 While I don't really spend much at Kloppers, I sure do enjoy wandering those carpeted Afrikaans aisles.
I hope you're encouraged today! I have an … you may have guessed it … inspiring story to share with you (I hope tomorrow) from our visit to an 'orphanage' (if that's the right name for it) that we visited Wednesday. Hopefully I can work on painting a decent picture with words for you this week!
Many thanks to those of you who've been praying for us during all these travels. We've been in need of grace, and Grace has found us!
xCC
P.S. I was privileged to be featured in a "Mommies with Swagger" interview over at the Dameron Girlz today. Check it out here!