Hero Hubs was away from Mama Africa for close to twelve years before we settled down here in the Cape exactly a year ago today. While I've worked through occasional bouts of culture shock, it has been interesting to simultaneously observe many instances of re-entry shock for him. He has returned to the country he left, but a lot of things are not the same.
While my Mom was here visiting, we went up the coast and were near a place called Kei Mouth (that K-word rhymes with "eye"). HH's family used to have a holiday home in Kei, and he has fond memories of family vacations there. Since we were close by, we decided to drive to Kei one afternoon to see what things were like after so many years.
The Collie family sold the holiday home close to twenty years ago and it has since fallen into disrepair. The Bear was asleep in the car, and while my Mom waited with him, I slipped out to be a witness to the experience I expected to unfold. Broken windows, cobwebs and weeds greeted us as we drew near.
It was almost as if I could see HH's heart sink as he looked at the home.
We peered through the windows and he began to speak.
This was the living room…we used to play spades on the floor right there. And there's a rock on the fireplace. We used to pick up rocks on the beach and carry them up here and sit them on the mantle above the fireplace. I bet that's one of them.
My sister's room was just down there… and look, the tiling is still the same in my parent's bedroom. That tiling is from twenty years ago.
Dad used to sit his toolbox right there by the fireplace.
Mom had a beautiful garden here…and there was a fence just here separating the front and back yards.
My brother and I walked down that path right there to get to the beach. See?
There's the old outdoor shower…
All this overgrowth wasn't here…there was a beautiful view of the ocean from here before.
I looked and listened through tears.
With a few tears of his own, memories of a gentle and sweet season of life were pouring out of HH. I seldom have the opportunity to witness these things, having never visited his birthplace and only occasionally spending time in what he considers his hometown. It was special and meaningful and very painful at the same time.
We took our time to walk around the place. We climbed a ledge and peered into what was once a busy scullery which led into an inviting kitchen. I tried to imagine what things had been like but struggled to create pictures in my mind. We saw evidence that the house had been occasionally occupied by drifters and we read a notice that it was set to be demolished so that a number of apartments could be put up there, and on the adjacent property.
On our way back to the car, I gingerly stepped over low walls and tall weeds and asked HH if he would like to take a picture.
"These types of things are best kept as memories," he said.
I agreed, but decided to take just one picture from the car window before we drove off. It seemed like this home represented a bit of what South Africa might feel like to a returning expat at the moment: things are not as they once were, but if you look hard enough, you can find hope for what's ahead.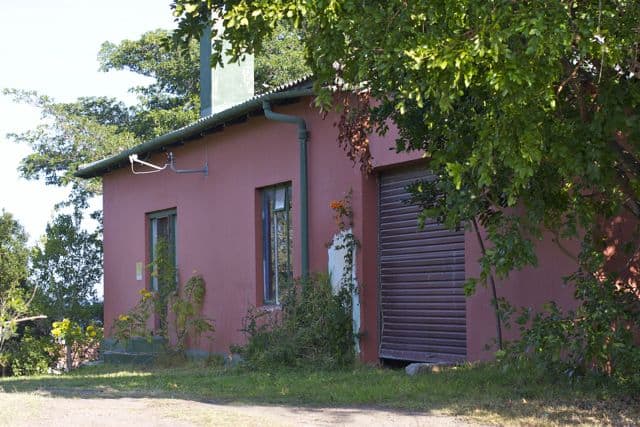 In those brief moments, my desire to understand, to think through and to write about my "man without a country" began.
It's funny how sometimes the best way to hold on to something is by letting go. Trying to grasp at a past that isn't there anymore is likely to taint the memories you'll hold about it in the future. Finding the bravery to walk boldly into an unknown future instead of clinging to a long-gone past doesn't seem like an easy task.
But as individuals, as communities, even as nations, I think that our paths to progress are paved by the ability to remember the past without romanticising it — to learn from what has happened without striving to re-live it.
As a famous warthog once said, "You gotta put your behind in the past."
What does it mean to come back to the place you're from and not feel like you belong anymore? Are you still South African if you return to your people and you don't feel like one of them? As I continue to think things through, this story will continue on another day.
xCC