Happy Tuesday, guys and gals! We are back on the part of the map that says Gordon's Bay, and I'm hoping  a momentary gush of bandwidth will carry this Travelling Tuesday to its intended URL destination — our internet's not doing so well today. The travels with my Mama in tow did not disappoint when it came to photo opps! She left Sunday and I cried like a baby. And the next morning the Imagination Movers were singing an "I Love My Mom" song which the Bear seemed to enjoy. I however, since we were in someone else's holiday home, resisted the urge to throw something at the TV.
Anywho, Knysna. The first syllable rhymes with "eye" and the second rhymes with "duh". Knysna was the first stop on GC's African Road Trip adventure (not including Gordon's Bay and the other adventures around Cape Town). We had a beautiful and sunny couple of days there. But illustrations are better than explanations!
Knysna sits on a lovely estuary, often incorrectly referred to as a lagoon. But lagoon sounds more romantic and exotic doesn't it? The lagoon estuary has a narrow exit way which flows into the Indian Ocean between two lovely cliff rock faces called the Knysna Heads. There's an eastern head, a western head, and plenty of nice places to stop if you need to hit the head.
Look, here's one now! The Eastern Head to be more specific…
And another one! The western one, methinks. Those black spots are birds…I think cormorants.
We took a boat trip along the lagoon estuary and enjoyed venturing out towards the heads. After around 49 vessels sank trying to enter through these narrow straits, they decided to close the port. Probably a wise decision. Care for some more illustrations? (Not of sinking vessels, mind you…)
For some reason the Bear thought we were aboard the poop deck…
Or else the bumpy ride we experienced in the rough waters near the heads scared him poopless.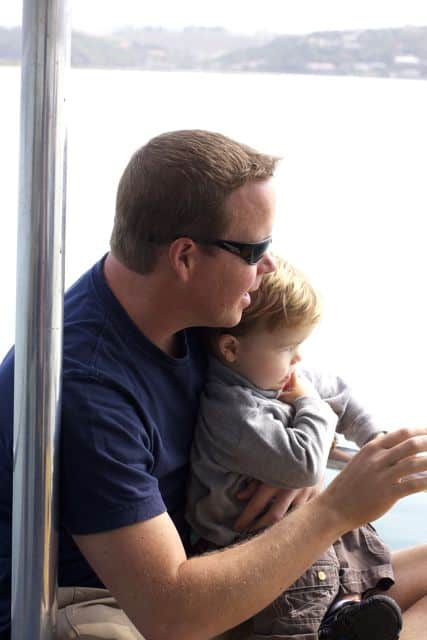 See, there's not much space there…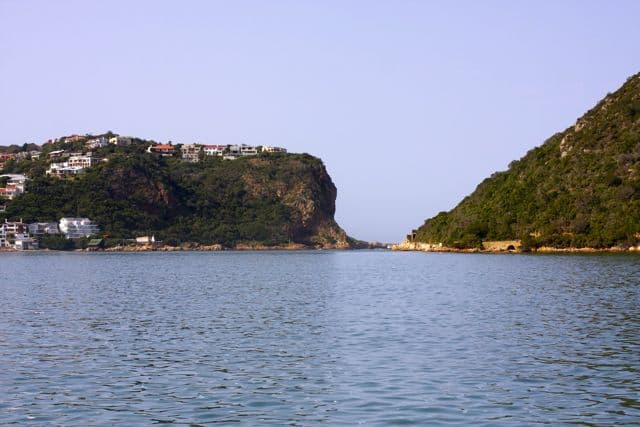 I'd been on this lag estuary twice before this and it had never been calm enough to get this close. I didn't know there were caves and paths past the big rocks!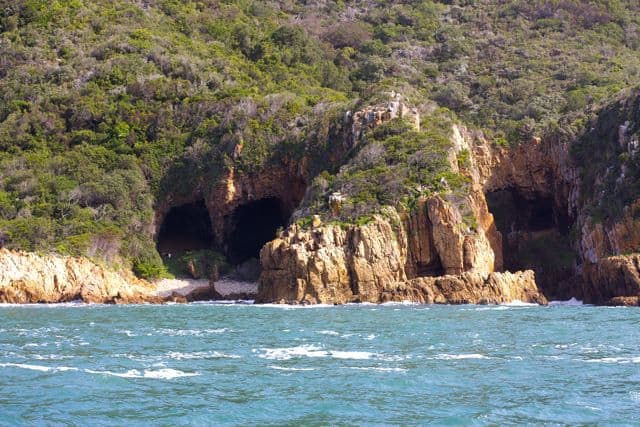 I thought about dunking our camera in the water to see if I could catch a shot of the unique Knysna Seahorse, but I was afraid HH might not appreciate that effort. BTW, did you know that male seahorses carry the babies and give birth?
Our comfy accommodation was on the Knysna waterfront where we enjoyed nice restaurants and touristy shops, along with a pretty view from our place…
And we went for a wee walk along the eastern head and enjoyed sundowners at a little restaurant with a gorgeous view. Hero Hubs and GC enjoyed Long Island Iced Tea. This Mama enjoyed a non-alcoholic strawberry daiquiri instead. The Bear enjoyed it too.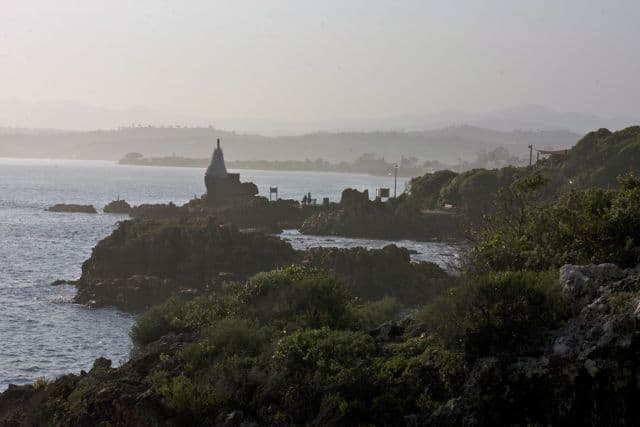 All in all, Knysna is a wonderful stop along the garden route. G.C. enjoyed her oysters, the Bear enjoyed a boat ride, HH and I enjoyed not working for a few days…who could ask for anything more?
Hope your Tuesday has been a good one! And that you enjoy the moment wherever your journey takes you next!
xCC