Do you remember that scene in Elf where Will Ferrell runs into the conference room and bursts out with the exclamation: "I'm in love, I'm in love and I don't care who knows it!"? Okay, maybe not, but if you can picture it, that's how enthusiastic I feel about sharing with you that the World Cup Distributions got off the ground last week. Shoes cleared Customs. Shoes were unpacked (some of 'em though, not all of 'em.) Lots of little faces lit up and lots of feet received some much needed protection. Don't forget, it is winter here! I can't believe all the bare feet I'm seeing in winter!
I'll be creating an album with lots of captions and more pics on Samaritan's Feet South Africa's Facebook Fan page, so be on the lookout right here. And go "like" us if you haven't already! Uh, you like us, right?
In the meantime, here are some highlights from the beginning of an exciting time for us … on one special, chilly, lovely day outside Cape Town.
I have to mention here that this little girl was THRILLED when she discovered that her brand new shoes LIGHT UP!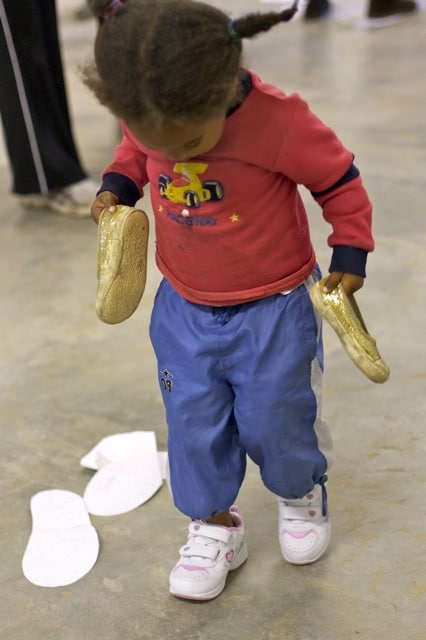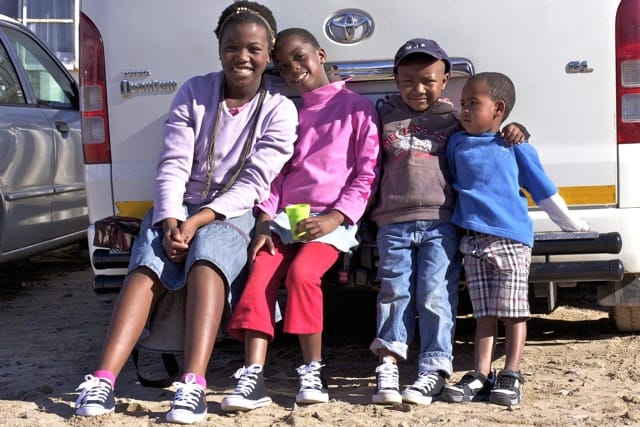 I had some great conversations with some of the regular staff who see these children a few times a week. I was reminded that even though some of these kids had some semblance of a pair of shoes before, for many of them this might be the first new thing they've ever been given. For the staff workers these distributions present an opportunity to get to know the kids better one on one. One staff member shared with me that she overheard two little boys taking another aside and saying "Do not let your mother take your shoes!" She was glad to have overheard this, to be able to keep an eye on the boy and remember this during future home visits.
It's hard to not know what the future holds for these kids (that thought continually struck me during this distribution), but we keep praying that the seeds that are planted — of hope, of faith, of belief that better things are still to come — will grow in these little hearts and multiply a hundredfold.
Hope your week is off to a great start. From my tugged and stretched heart to yours, Happy Tuesday.
xCC