Happy Tuesday, dear friends! This Tuesday is scheduled to be yet another actual Travelling Tuesday as we will be making our way from our beloved Bloemfontein down to Gordon's Bay, and our whirlwind of travels will be done! Thank you so much for your prayers — although it has been a very busy and slightly tiring adventure, we've also been incredibly blessed during these travels. I've come down with a cold and the Bear has a runny nose, so please keep our health in your prayers. I cannot wait to show you pictures from so many of the spots we visited!
Today, since we have been on the road so much and I've been pressed for time, I thought I would simply arrange a special post "From the Backseat" for you, so you might feel like you were able to come along for a bit of the journey. Ready to hop in? Sorry, but you can't ride shotgun.
Check it out! Kids sliding down a hill on cardboard boxes. Wanna stop to join in?
Too bad. We've got a long way to go.
We spent a long time passing through roadworks in a town called Mthatha.
I watched this fella with the front-end loader almost hit three people passing by.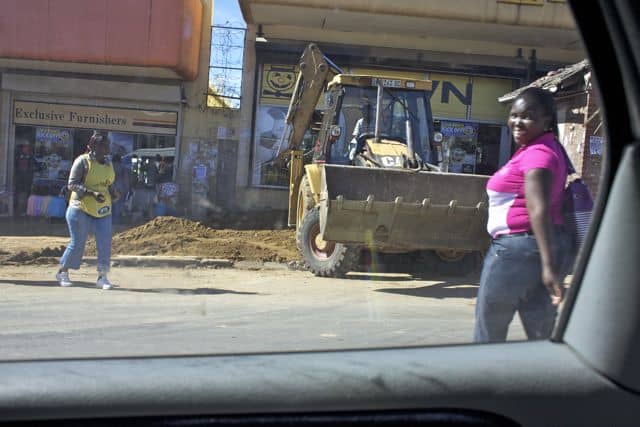 If only we could've stopped to look at those dresses! I bet we would've gotten a good price!
Slow down, Cow Crossing!
Sometimes things feel a little like home…
That could be a North Carolina overpass, besides the names I guess.
And this made me think of Hamburger at Lee Chevrolet Pontiac Buick in Washington…"All Roads Lead to Lee."
And this Chicken place smelled like B's Barbecue back in Greenville, North Carolina. Funny how a smell can transport you 8,000 miles in 3 seconds.
It's amazing how things can be so similar and so different at the same time. I could get some Kentucky Fried Chicken, but this sure ain't Kentucky.
I think this seems like a reasonable name for a river.
And look! We finally reached another of our 7 destinations, and the Bear decided he'd do the last leg on his own!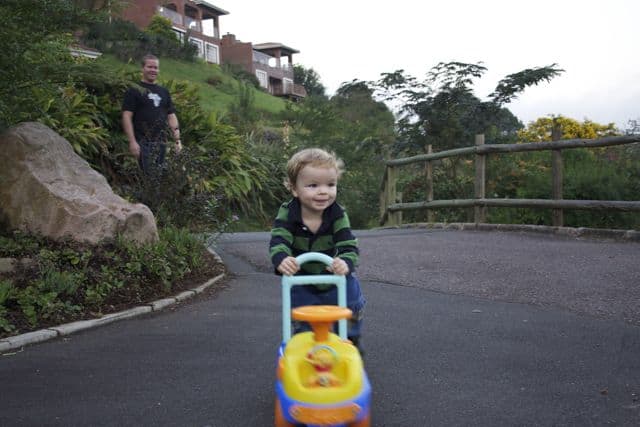 So that was a slice of Africa from the backseat! Did you enjoy being along for the ride? I'm excited to share some awesome shots with you over the next few Tuesdays! Whoo-hoo! I'll write you again from Gordon's Bay!
xCC
Keen to join in on the Travelling Tuesday-fun? Whether you're documenting an adventure at your local Wal-mart or last year's schlep to Timbucktu, we'd love to have you along! Drop your Travelling Tuesday post's link in the Magic Link-Up Robot below, and be sure to link your post back here. Otherwise you're just being cheeky. 🙂