In case you were feeling that our one and only was becoming a lesser-spotted species of Bear lately, here's your fix on where you might spot the 20 month old wonder these days.
He was recently seen dancing and testing out musical instruments in Green Market Square in Cape Town. He tried to score a five-finger discount on a FIFA World Cup soccer ball — the special 2010 ones with the South African flag — but his Mom made him put it back.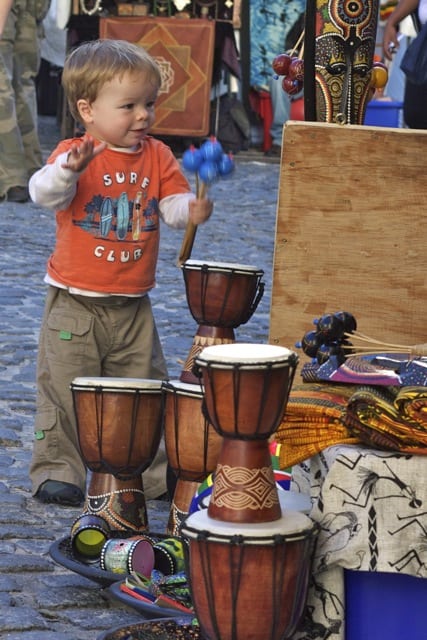 He also recently did a little bit of a hike atop Table Mountain.* He found the uneven terrain slightly challenging, but preferred to make the journey without any hand-holding whenever possible. His Mom was disappointed that he didn't find the heights to be good reason for caution.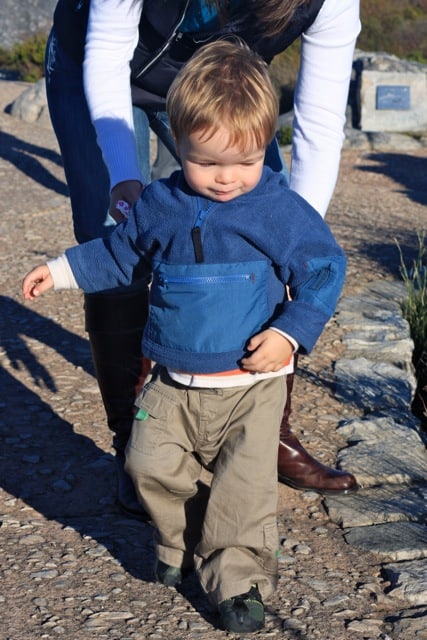 *He intends to avoid the potties next time.
He was also spotted eating with a fork for the first time on Tuesday. Macaroni and cheese, no less. Shortly afterwards, he climbed stairs without the assistance of an adult or his hands. Sure, there were only three stairs, and they were only four inches tall or so, but who's counting?
In his spare time, the Bear has also recently been spotted perusing his vast collection of Veggie Tales and Wonder Pets. (Thanks, Amiee, Sarah and Rory!)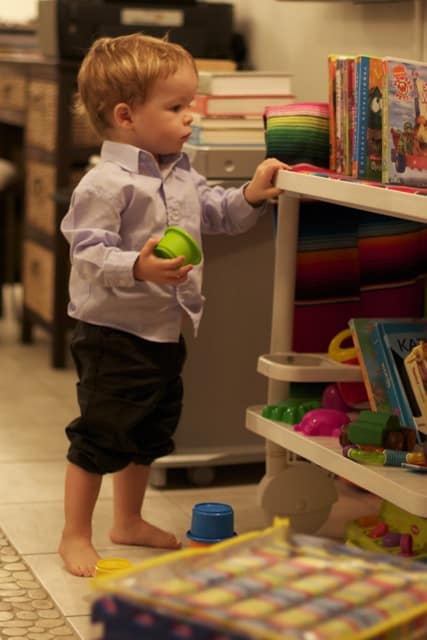 He was also spotted on an adventure unlike most the Bear has seen before…
But he felt that he fit right in, and rather enjoyed it.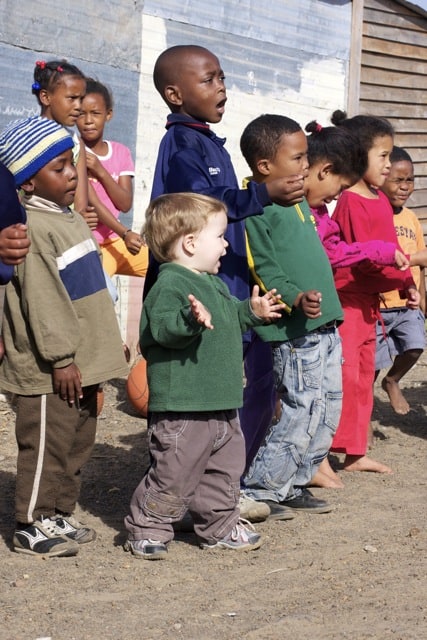 So, folks, those are the coordinates for spotting the greater-spotted African Bear. If you're hoping to see him outside captivity, you'll need to move quickly. He is known to transition from walking to running before you've got the lens cap off your camera.
Who says there aren't bears on this continent? 🙂
xCC
P.S. Don't forget there is a giveaway right here at carolinecollie.com, tomorrow!!! That's Friday, April 30th! If you don't drop in, you can't win! See you then! Don't ya love rhymes?