If you're a regular on the show, you might be aware that I've been hoping for a dishwasher. Very much hoping. For the sake of better time management. For the sake of our marriage. For the sake of the poor baby who makes lots of dishes dirty and tugs at my skirt tails waiting for me to get my hands out of the dishwater and do something for him. And because a big part of our ministry is welcoming people into our home, feeding them, enjoying opportunities to pray together, and just sharing life. And it kind of stinks to waver between deciding to chill out in the living room with the guests or run to the kitchen to start on the big labour of love looming ahead of you.
Our finances are rather tight at the moment, and a dishwasher seemed like a dream…far off in the distant future…waving back at me, as if someday we would see each other on a beach, and come running slowly toward each other…me with my arms extended, dishwasher with her door open, drawers bouncing and clanging, and cords and pipes trailing behind her. Yes, I think she's probably female. We would run slowly and purposefully like the lifeguards on Baywatch and the theme song of Chariots of Fire would play somewhere in the distance, we'd embrace, and I would walk her home, for Mark to install her, and she would be my new BFF. Anyway, it was just a hope and a dream!
However! The Lord is good. And very big. And able to make things happen that don't seem possible. You may have noticed that we mentioned our friend Lorna giving us a Christmas present a few weeks ago. She sent us an encouraging word, that when she has felt like she should trust the Lord for something, for example to own her own home, she felt directed to purchase something, like a visitor's book, as an act of faith that the Lord would come through. So she sent a gift toward our dishwasher fund (which made up the entirety of the fund at the time) and a package of dishwashing rinse aid. It majorly stirred up my heart and reminded me that with God, all things are possible! (Thanks again, Lorna!)
When we returned to Gordon's Bay after Christmas, we spent some time going over our budget, looking at places where we can hopefully trim some edges, and thinking about how to keep balanced moving forward in the New Year. Signing up for a phone contract, instead of doing pay-as-you-go was a potential money-saver we'd been considering for a while, and it finally seemed like the right move. This all ties in, I promise!
So Tuesday, we signed up for a phone contact for Mark. It's a small one which gave us a cheapo handset we probably won't use and a small number of minutes per month… at least it has a flashlight! But signing up for the contract gave us 3,400 Rand (about $470 or £290) of in-store credit at Dion Wired (the electronics store where we signed up for the contract) or their partner store Game, which is kind of like Walmart-esque everything store. But not as huge and over the top with the eons of choices that now seem to make me dizzy whenever I'm home. And you may have guessed where we're headed with this…
YES! Dion and Game sell dishwashers! 3,200 Rand dishwashers even! So without spending a cent (other than signing up for the phone contract which we needed to do anyway) we brought home with us a lovely new dishwasher with a beautiful large and functional inside and a two year guarantee and I am over the moon and full of run-on sentences with excitement! And thanks to Lorna's contribution to the dishwasher fund, we can extend the warranty for another two years, if we decide that's a good plan. 🙂 YES!
So, you're now being introduced to my new BFF. She is as beautiful as she is functional, and a glorious sight for scaly hands. And since we didn't meet on the beach after all, she isn't one bit sandy. With God, all things are possible, even the provision of a dishwasher when it didn't seem possible. YAY! Here she is…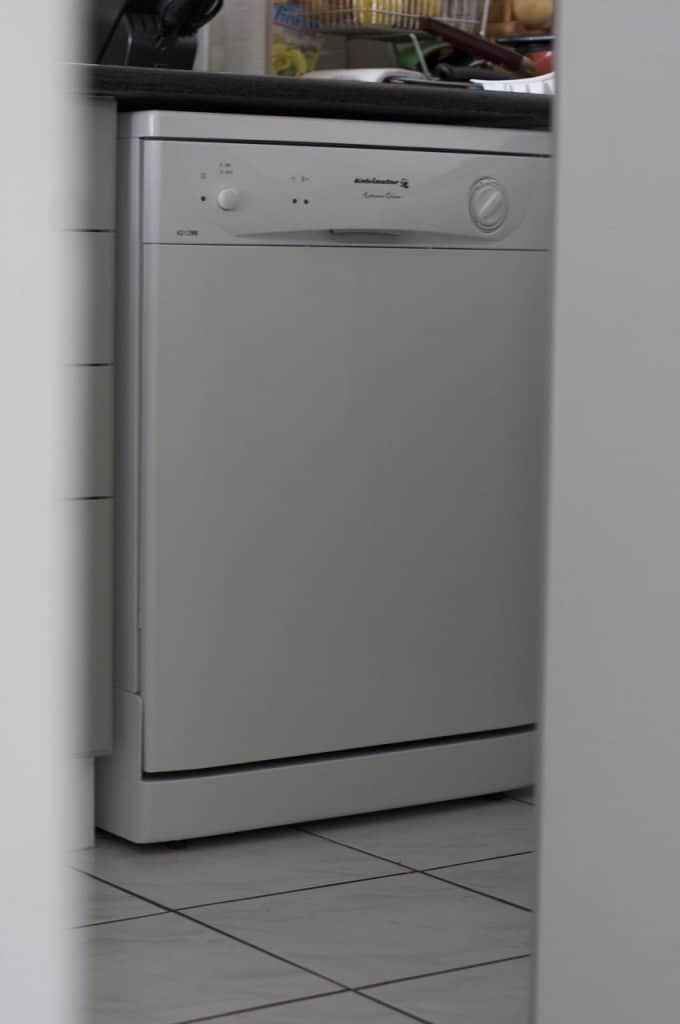 Any name ideas from the crowd? Please comment with them! She needs something glorious. I titled her picture Sally in the meantime, but we'll keep thinking. Thanks for rejoicing with me!
Thank You, Lord, for the character and relationship-building time Mark and I have shared whilst taking turns washing the dishes. Thank You that we already have everything we need in the glorious riches of life with Jesus. Thank You that, although a dishwasher is nothing when compared to the amazing goodness of new life in Christ, You still bless us with these special gifts of undeserved exceeding abundance anyway. We have so much to be thankful for. Thank You!