Happy Tuesday! I hope your week is going great, dear ones! We went for a walk on the beach Saturday morning. The sun was high and shiny, the water cool and inviting, and the Bear more than willing to be a superstar photo subject. The pictures were too cute not to share. My apologies if you feel like you've seen too much Bear so far this week. We'll move on tomorrow! 🙂
Enter said beach, stage left. And the Bear, desperately hoping a beach walk is on the agenda. Somebody preez open dis gate!! he seemed to say.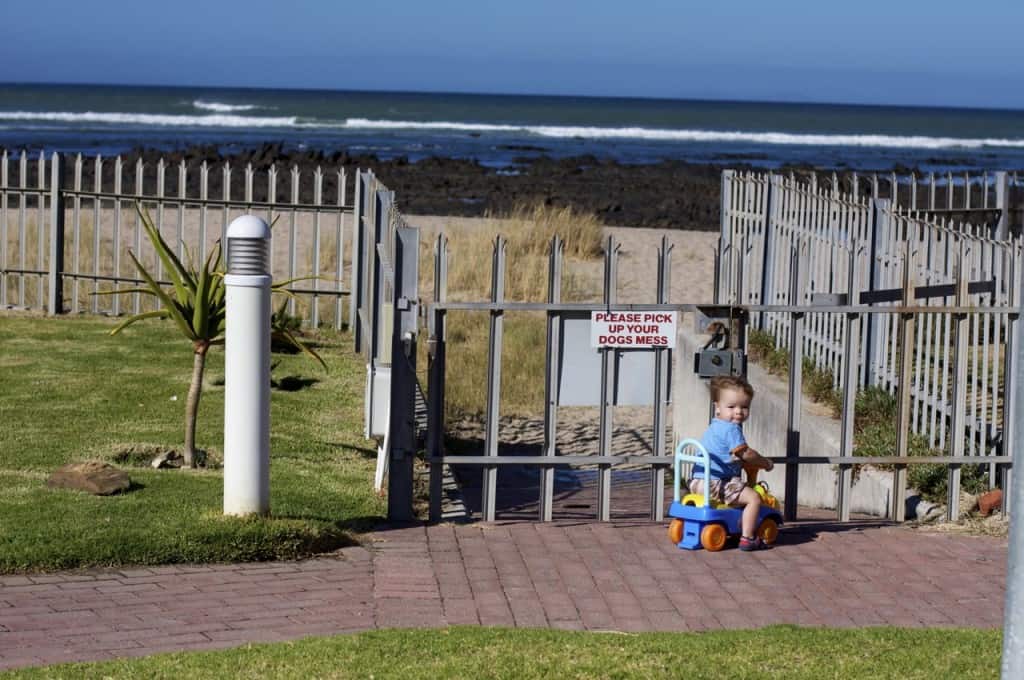 Here's a good shot of a bit of the area where we live. A lot of the houses nearby are amazing, huge beach houses that people only live in one month out of the year. It's kinda sad!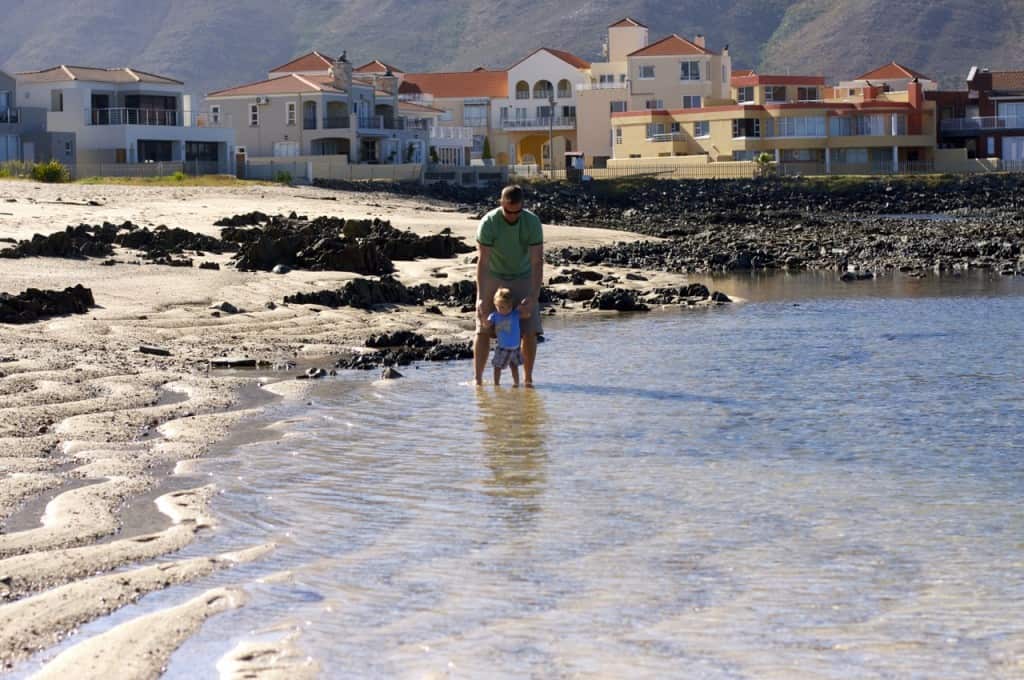 See the rounded windows with balconies in the background? Our apartment is in the complex through the entrance underneath. We would love to take care of one of those houses while the people are away, though! 🙂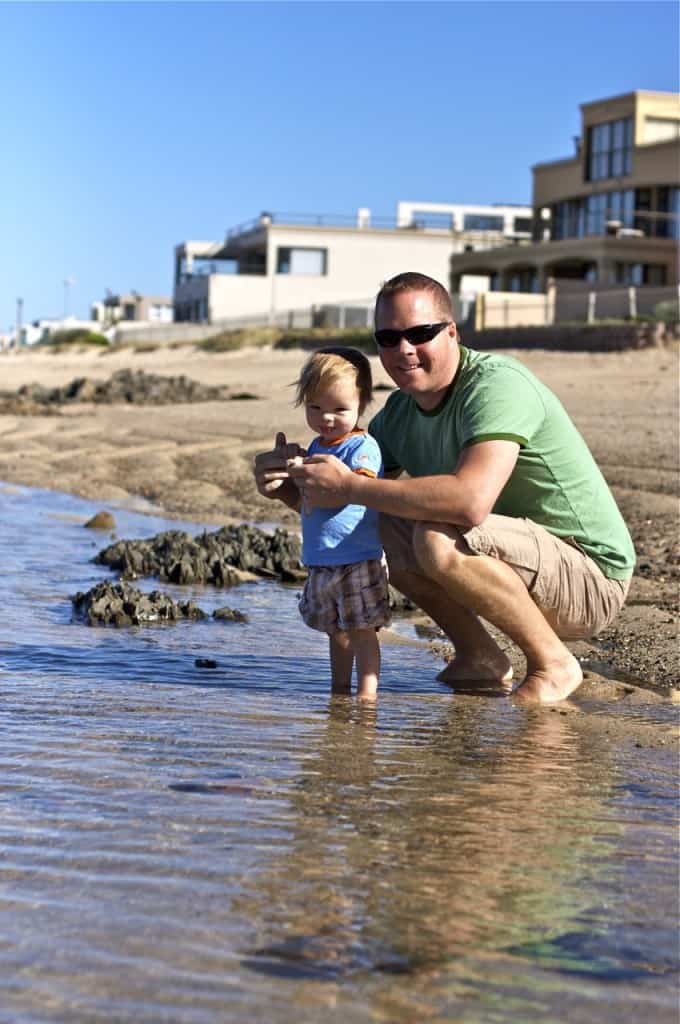 The Bear decided that even if it's chilly, walking in the water ain't so bad! Yes, I can see his hair is scruffy and a cut is in order! Leave me alone about it, I'm not ready!
See the "GB" with an anchor spelled out of white rocks in the background of this next shot? (It's rather faint). It's in honour of General Louis Botha, a steady fighter of the Brits in the Second Boer War. (You might remember me telling you before that the Boer Wars were similar to the American War for Independence aka the American Revolution, except the British won. There's a little more SA history for you in some other posts here and here if you're interested.) Anyway, years later, Botha visited London seeking assistance for the rebuilding of South Africa after the wars and Winston Churchill remembered him as the man who captured him in a Boer ambush of a British armoured train! He eventually became the first Prime Minister of the Union of South Africa, the forerunner to the modern state we know as the Republic of South Africa. He was seen as the leader of the Boers for many years after the wars, so it was a good thing he had a mind to make peace. The Naval Station in Gordon's Bay was originally named for General Botha, thus the letters on the hillside. How's that for a history lesson from a blurry mountainside in the back of a photo?
And this is the excitement of seeing an airplane go by!!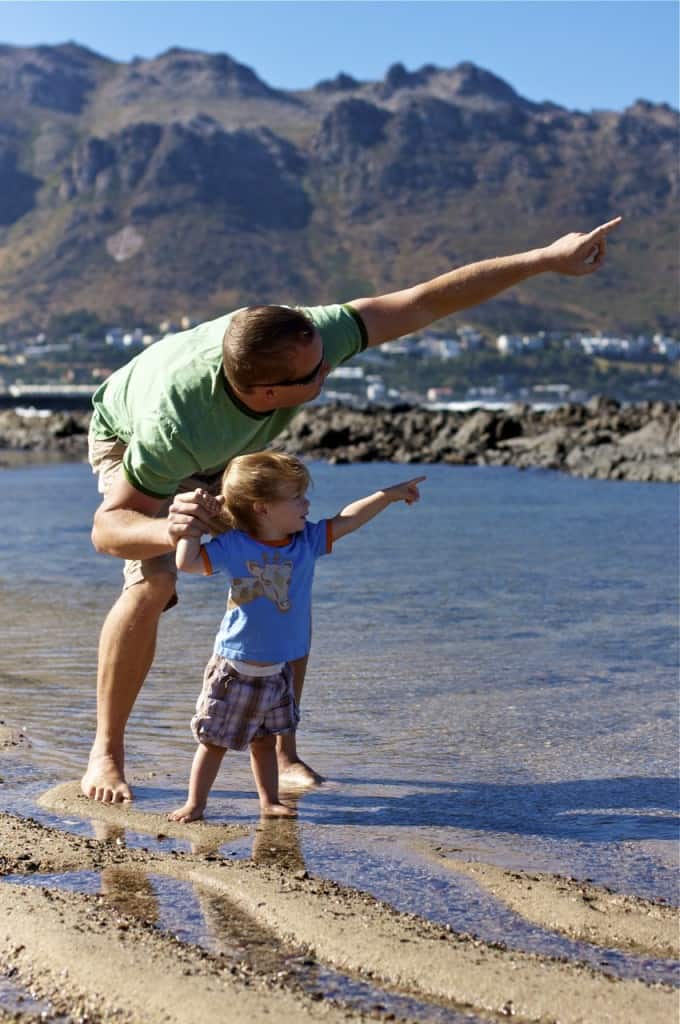 Hope you're having a great Travelling Tuesday, and the road rises to meet you wherever your journey takes you next!