Well folks, we are safely in South Africa and it is really really good to be here. Our most recent travel experiences really deserve a mention. By the end of this you might think I'm writing a paid advertisement for Emirates airline, but honestly, this is just me telling you what a great experience we had. (Although if they wanted to pay me, I would take it!)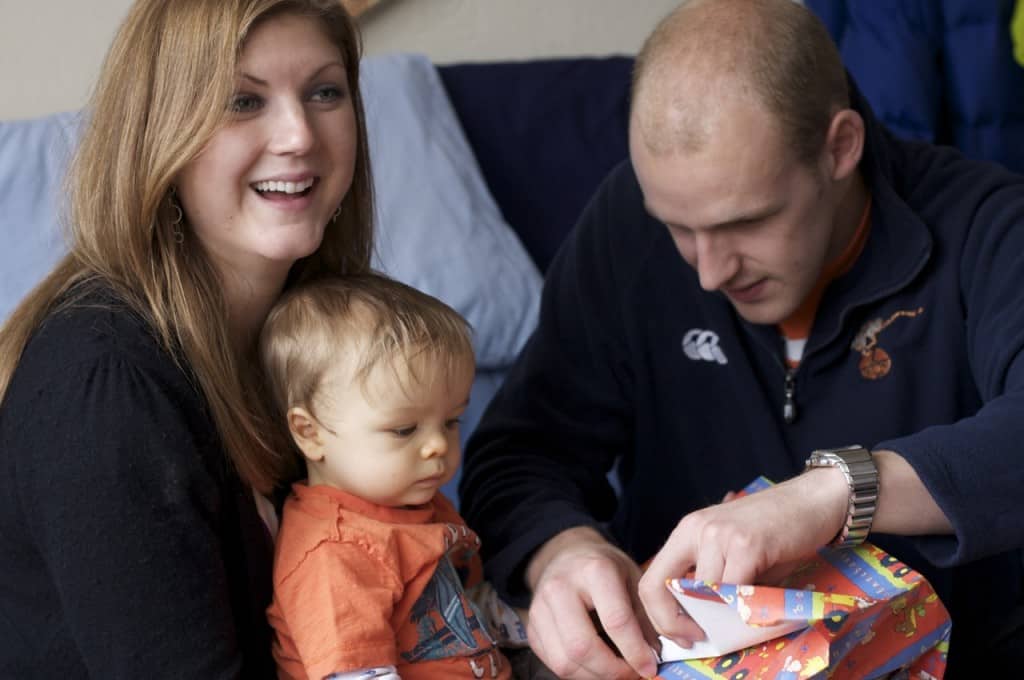 This adventure began with our last few days in Scotland, staying with our dear friends Rob and Alice (travelling Rob), and catching up with more friends, (who had birthday prezzies for Asher, no less! thanks Worwy and Sawah [above]!) connecting with friends at church, and catching colds because it was so cold and rainy and wintry. A million thanks to the Andersons for hosting us so graciously (Rob could run a fantastic restaurant of culinary delights), to Adam for driving us to the airport in Glasgow, and to Hope for letting him when she's so pregnant she's about to burst and has two wee ones.
We were…shall we say… a bit concerned about our baggage because we thought the Emirates allowances were the same as Continental's, but we discovered we were mistaken the day before our flight. We were looking at 25 to 35 pounds — that's British Pound Stirling — per kilogram overweight. And we had none too few extra kilograms. But the travel agents were as friendly as Nessie is hard to find, and did not even mention the extra weight. When we walked away from the counter we felt like kids on Christmas morning. That upgrade we prayed for just happened. They only made me taste two baby food jars at customs (yeah… seriously) and when we arrived at the gate, they came and checked our pram (stroller) for us, and told us although it was checked to Johannesburg, there would be a pram waiting for us while we were at our layover in Dubai. That was great. The layover was more than four hours in the middle of the night, but at least we had a pram! And I am now convinced Dubai is quite possibly the coolest place I've never been.  (Since the airport doesn't count).
Our two eight hours flights were easypeasy. On each leg, the flight attendants gave us toys and other stuff for Asher…he got a hand puppet camel on the first flight (along with a colouring book and coloured pencils) and he got a hand puppet tiger for the second leg of the journey! They also gave us baby food, and a little pouch with a rattle, a spoon, baby wipes, a bib, baby lotion… they just really took care of us. And they took Asher's picture and put it in a little paper frame with an airplane on it. "Best wishes from Emirates to Asher" with the flight number and crew member names. So sweet! He wasn't looking at the camera so they tried twice. Sweet anyway!  We also had a row of four bulkhead seats to ourselves on the first flight, and three bulkhead seats to ourselves for the second. Upgrade!
So here's my thirty second Emirates promo: "At a time when most airlines are debating charging customers for extra baggage or even for going to the bathroom, Emirates is handing out hot towels and amazing meals. They're serving cake and ice cream with tea and coffee at snack times. They're giving kids toys and making sure their families are comfortable. Their prices are competitive, but their customer service blows the competition out of the water. (Or sand dunes, if you will). From perhaps one of the best-traveled babies in the world, Emirates gets a one-tooth smile with lots of drool, and two happy hands up!"
Thanks for allowing that digression. As the story continues, we are now safely in South Africa and it's great to be here. We arrived in Johannesburg, stayed the night with Mark's sister, Lyn, (who also had great birthday prezzies for Asher!) The next day was, praise the Lord, our final flight — Johannesburg to Cape Town. Mark felt prompted to wait one more day before buying those tickets with Kulula, a domestic South African airline.  A one-day sale started the next day, and (thank you again, Lord!) we saved a huge amount on the tickets. Unfortunately, we did have to pay for our extra baggage on that flight, but since we'd saved so much on the tickets, we pretty much broke even.   And now the real adventure begins! Since I've gone a bit long, I will perhaps save the story of our arrival for tomorrow. =)
xCC