Hi e'dybody (as the Bear would say), my friend Eve is sharing a wonderful Whole Foods Holiday guest post today! She is super. I've made you wait long enough for this edition of the Whole Foods Holiday posts…so without further ado…
Born Up a Tree!
***
Food for Thought
When I was pregnant the first time, I have to admit that I didn't eat very well. Maybe I should say that I ate really well, but I just didn't make good choices about what I ate. I gained 50 pounds and had a 6 pound 13 ounce baby. I nursed my bundle of joy and when it came time to feed him solid food, a light came on for me. Would I feed him the same things I had been eating? Um, NO.
I tediously made all of his baby food- it was easy by the way. Recipes are easy to find and as long as you have a food processor and a freezer, you are good to go. Since I am a full time mom and have a full time job, it took a lot of planning and a lot of cooking on the weekends. Out of desperation one evening because of a busy weekend, I stopped at the store and picked up some baby food in jars. All I had to do was open them, take a whiff, and I knew that I was not feeding that to my child.
As my son grew, I realized he was an extremely picky eater. I am blessed that my son is not allergic to any foods, and we do not have any behavioral or developmental issues that require special diets. I know lots of people who have to put lots of love and care into meals because of special dietary needs- and I admire you. But he is still a picky eater, which also requires love, care, and patience with every meal.
Since I do have to balance my workload with my mother load, my son goes to a great Christian pre-school/day care that I dearly love. They feed him, but it is certainly not what I would feed him at home. At home we eat as many whole foods as possible- potatoes (usually sweet), rice, whole grains, whole fresh or frozen veggies, whole fruit, and whole meats.
And when I say whole, I simply mean not processed and with no added ingredients. If I buy something that has a label, I make sure that there is nothing on there that I can not pronounce or anything artificial. I firmly believe that this whole food is what my Creator created me to eat. I can't afford to purchase all organic foods. So I do the best I can with what is available in my rural community. Fortunately, there are lots of natural and non-processed options to choose from.
It takes some creativity to not eat the same thing every day. Especially with a picky four year old. We have some favorites that we rotate through that my child loves to eat and I feel good about feeding him.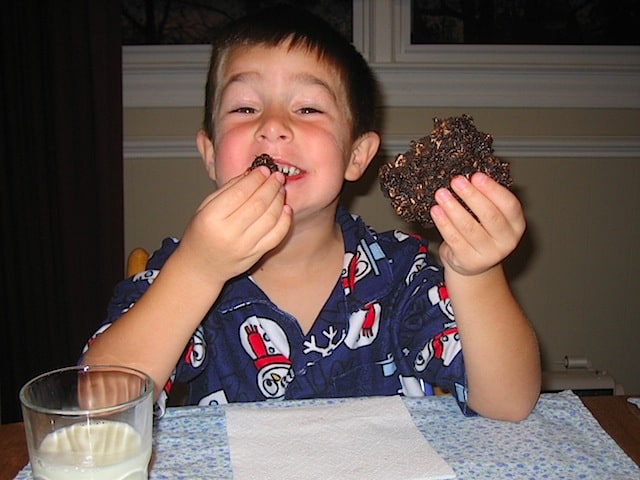 One favorite is something we call Chocolate Cookies, for lack of a better term. The ingredients are simple- and you can use organic or conventional products.
Recipe for Chocolate Cookies
2 ½ cups rolled oats (old fashioned Quaker Oats work fine)
½ cup cocoa (dark cocoa is a bit healthier)
½ cup milled flax seed (in the baking aisle near the flour)
½ cup wheat germ (near the cereal)
½ cup honey
½ cup peanut butter
about 1 cup HOT water (hot as you can get it from the tap)
Optional: for a little extra protein boost, add 1 tsp Spirulina Powder, available at health food stores)
Mix all the ingredients except the honey, peanut butter, and water until well blended.
Add the honey, peanut butter, and water (a little at the time), and stir until the "batter" is the consistency of mashed potatoes, with everything mixed well.
On wax paper, pat the cookies out by hand into patties about the size of a small hamburger.
Using wax paper between the cookies, store in an airtight container in the fridge for at least 6 hours before you eat them- they will firm up.
This recipe makes about 8 cookies and will keep for a week or more in the fridge, but at my house I have to make them twice a week.
Don't be fooled by the appearance- they do NOT taste like the no-bake-oatmeal-peanut butter-sugar-cookies that you may remember from your childhood. The texture and flavor is very earthy, due to the flax seed and wheat germ. My son has eaten these since he was old enough to hold them in his hand. You can tell by the pictures that he enjoys eating them, but they are a little messy. He loves them for breakfast, and sometimes for a quick snack.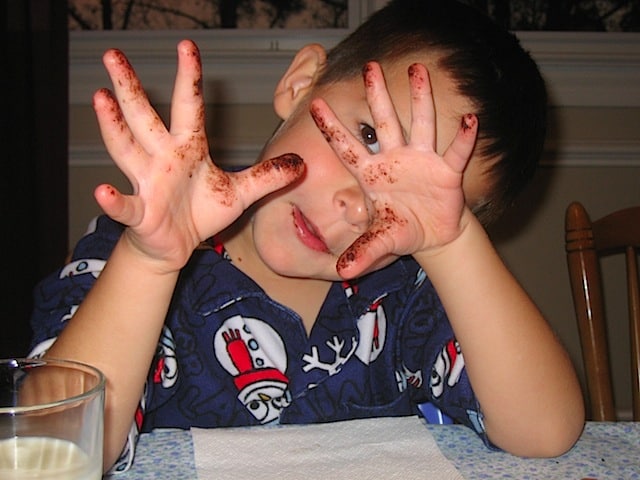 If you would like some more ideas on how to add more whole foods to your families meals, I will be happy to share. Send me an email at ehhoneyc@gmail.com.
***
Thanks so much for sharing with us, Eve! That was definitely some good food for thought for me — and I'm hoping to make "Chocolate Cookies" with the Bear soon!
We might have one or two more Whole Foods Holiday posts on the way, but in the meantime, do you have something to share? Just add a link to the link below if you have a Whole Foods Post or Recipe somewhere else on the net that you'd like to share!
xCC