How often have you heard that statement? A few times too many? Enough to get you in trouble? Sometimes I hear it from people who I feel pretty certain I shouldn't trust. Sometimes it comes from the guy on your doorstep trying to sell you some miracle cleaning solution or oceanfront property in Kansas.
More often than not, it's not a serious statement — and it can almost be an indication that you ought to take lightly whatever the person you're speaking with is about to say next. I always picture Aladdin saying it to Princess Jasmine just before they jump off a building and land in a sand pile, and I guess he was trustworthy. I digress.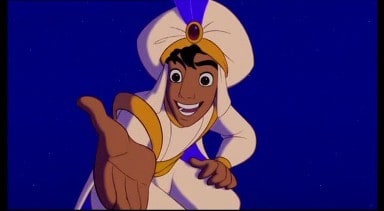 What if God says "Trust Me?" Â Is that a different kettle of fish for you? For the past wee while, Mark and I have been praying about some decisions regarding our next steps here in South Africa — about perhaps getting part time employment to make ends meet, or trying to raise more support or — whatever other direction the Lord might lead us in.
Can you guess what the Lord's response has been as I've brought this before Him in prayer? Yup. Trust Me. No booming thou shalts, no other thoughts or directions, just a still, small Trust Me.
I have found hearing a Trust Me from the Lord really encouraging. It has given me an expectation that He is going to do something great…that He's going to come through for us in some unexpected way…or at least that something is going to happen. But today as I was spending time in the Word and in prayer, I noticed a heaviness on my heart.
The first thing that came to mind was "my thoughts are a mess." As I went over what I've been thinking about and dwelling on. You know those random thoughts you find swirling in your head while you're shampooing your hair or waiting for the baby to finish his bottle or driving along or absent-mindedly stirring a pot on the stove? Those are the meditations of your heart. They're a good indication of what's really going on in there.
And what's been going on in there ain't none too purty. I'm full of fear and worry, and mis-trust. Un-trust. Non-trust. Well whatever it is, it ain't trust! It is really remarkable that Trust Me was God's Word for me, before I even knew I needed it.
The Bible has a really simple solution to this issue. Would you like to hear a few thoughts on it, dear one? Great! Today I returned to II Corinthians 10 which talks about, among a lot of other really good things, "bringing every thought into captivity to the obedience of Christ." What I understand from this is that I should consider the thoughts in my head in the light of God's truth. If they don't line up with what His Word says, I need to get to a place in my heart and mind where they do line up.
What does that look like? Well, let's say I'm worrying… be reminded, dear ones, worry is actually a sin…we are specifically instructed not to worry or be anxious about anything! Nevertheless, I am in process and working on this, so let's say I am worrying about provision for the future. I'm worried about our finances and how all the ends are gonna meet. What does the truth have to say to this concern?
Therefore, do not worry, saying 'What shall we eat?' or 'What shall we drink?' or 'What shall we wear?' For after all these things the Gentiles seek. For your heavenly Father knows that you need all these things. But seek first the kingdom of God and His righteousness, and all these things shall be added to you. (Matthew 6:31-33)
That's a great answer, hey? It's a good idea at this point for me to ask the Lord to forgive me for not trusting Him and for giving so much of my heart over to worry and to fear. Then it's a good idea for me to begin thinking about that promise from God's Word, and exchanging my yucky meditations for meditations on God's Word…His truth and His promises. Think about it until you're convinced! I think it is good to think about what you're thinking about…don't you think?
I look forward to telling you how the Lord brings things about in the days ahead, but in the meantime, perhaps we can all learn and grow and be a little more conformed to His image thanks to the opportunity we've all been given to simply trust the Lord, and believe what He says.
The Sermon in a Nutshell: Never be afraid to trust an unknown future to a known God. (Corrie Ten Boom) And take some time to do some thinking about what you're thinking about! (Me)