I've decided to create a Tasty Tuesday post for Beauty and Bedlam this week, simply because my mother-in-law is a genius in the kitchen, and I need to share the genius-ness with you. I'm obviously not a genius since I just tried to say geniusness. Although I probably put on a few pounds every time we visit Hero Hub's folks in Bloemfontein, I love it because I learn so much. A small price to pay for wisdom! Mrs. Collie shared this recipe with me for stretching your leftovers, and at first I remember thinking What will I ever use that for? But I most certainly found a use yesterday and it turned out really well. Who doesn't want to make something new with leftovers, make them go further, and not throw them away? We're in a recession, people! So here ya go:
Pour Over Pastry
Basically, you spread the leftovers in a baking dish, (for example veggies or foods that have been moistened with cheese sauce or soup packets — they can be sweet or savoury). You mix, pour, bake and voila! it creates a whole new lovely dish! I did it with leftover Chicken Divan last night (which is chicken with broccoli in a sort of curry-mayo sauce) and it was delish.
Here's the play by play:
First combine:
3/4 cup flour  + 1/2 tsp salt + 10 ml (2 tsp) baking powder
And then add:
one egg, beaten into 125 ml oil* (1/2 cup)  and 125 ml cold water
Mix all that together, pour it over the leftovers, and bake at 180C/350F for 30 – 45 minutes. It will puff up and brown a little…yum.
*I used olive oil because it's healthier and it was all I had in the flat.
I forgot to take a picture beforehand, but here was the finished product…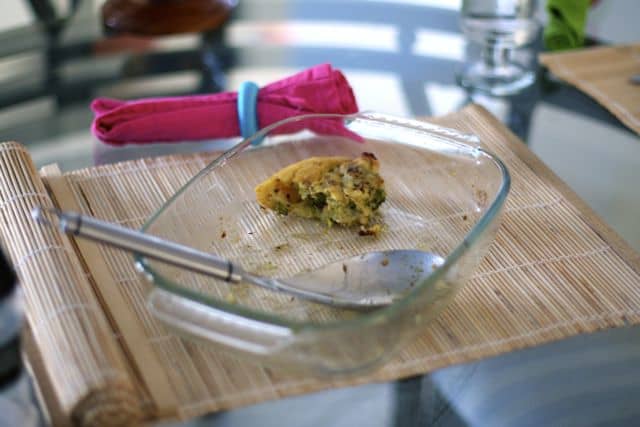 Just enough leftovers for a Bear-sized snack today. Yum! Hope you enjoy trying the leftover stretch. Let me know if you do!
xCC
You can check out this week's other Tasty Tuesdays at Beauty & Bedlam.