As I was working on next week's menu in order to do some grocery shopping this afternoon, I thought to myself, man, I wish someone else would create this menu for me! Do you ever feel like you've been eating the same ten or fifteen meals in a short-listed rotation day after day? As I finished up the list, I decided I might just paste it here for you. Mayhaps you can benefit from the labour of love which was looking for new and healthy recipes online this morning while simultaneously colouring Veggie Tales pictures and helping the Bear complete his new puzzle.
A few new meal ideas never hurt, and most of these are pretty healthy options from Prevention.com. You can count on me cutting down the salt most of the time, and kicking it up with some spicy whenever I can. Feel free to send some ideas my way so I don't have to do this all over again next week!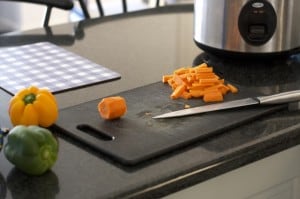 Monday night: Chicken Cacciatore Pasta w/ salad. Mushrooms will not be featured in our version. And some maize pasta I found a few weeks ago will probably make an appearance instead of the whole wheat pasta.
Tuesday night: Moroccan Lamb Stew w/ Couscous
*We buy lamb in bulk here in SA — sorry if this is not an easy one for you — the lamb packs always come with pieces that are good for stewing (and nothing else.) You could probably try it with beef. Who doesn't love how easy couscous is?
Wednesday night: Arroz con pollo (I will definitely do the throw some veggies in option so I don't have to worry about anything else. And I'll probably skip the bay leaves and throw in some of tomorrow's taco seasoning. Woot!)
Thursday night: Taco Casserole (I'm really excited about this because I found a recipe to make my own taco seasoning. It's really expensive here!) This might end up being Monday. I'm hungry now.
Friday night: My brother and his girlfriend arrive and we'll be having a big old Braai with Lamb Chops and Boerewors and baked potatoes. Since that's probably not likely to be on your menu (if you're outside SA) feel free to try these burgers I made last week. They were GOOD.
Sorry I haven't planned next weekend…with visitors around I'm not sure where we'll be when yet!
Let me know if you try any of these, if you dig the menu sharing, or if I'm wasting my time. 😉
xCC